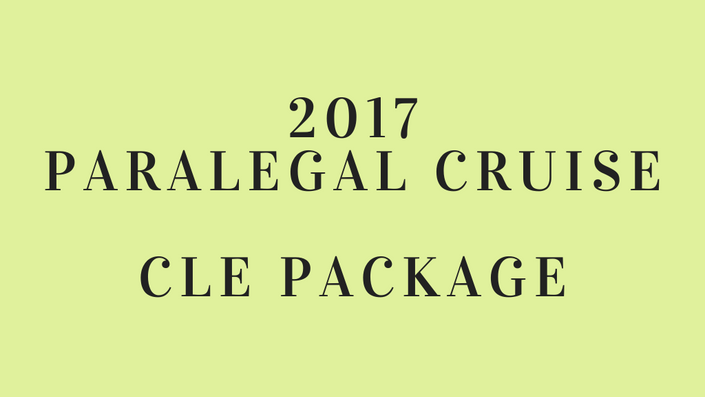 2017 Paralegal Cruise
30.5 CLE (including 6.0 Ethics)
As paralegals, we know it's important to never stop learning and keep our skills fresh and relevant. Add to that, the requirement to report continuing legal education credits to a variety of different entities. While many firms pay for the continuing education requirements for attorneys, many of those same firms do not cover those expenses for their paralegals even though they benefit from the education and certification of their paralegals. Even when firms do pay, it can be time consuming to collect all of the necessary credits, especially if you've waited until the last minute.
The annual Paralegals Navigating Perilous Waters cruise event is a fun and convenient way for paralegals to obtain a large chunk of their CLE credits at a really reasonable cost while enjoying a fantastic tropical cruise vacation. Of course, there is a lot more to the cruise than CLE and you won't find yourself falling asleep in a boring conference room, so make sure you check out the next cruise and join us in person!
If you missed the 2017 Paralegal Cruise but need CLE credits or just want to benefit from the awesome continuing information provided by our hand picked speakers, the great news is that you can still sign up for a virtual pass and receive access to many of the same benefits our attendees receive including recordings of the CLE seminars to do at your convenience.

This program includes recordings of live events, there may be background noise or other interruptions typical of live events.
Please visit this link for answers to Frequently Asked Questions about our CLE: http://miamifrp.com/cle-faq/
The following seminars are included in the 2017 Paralegal Cruise:

The Precarious Pitfalls of Paralegal Ethics

Avoiding The Minefields When Taking Depositions Abroad

Data Privacy: Law Firms at Risk!

Estate Administration From Soup to Nuts

Ethical Considerations and Practical Tips for Paralegal Billing

Ethical Questions: The Do's and Don'ts

Ethically Navigating Contract Review: A Paralegal's Guide

Real Estate Transactions and the New TRID Regulations

Technology Solutions for All of Your Litigation Matters

Technology in Litigation, Preparing a Case with The End in Mind

Paralegals Role at Trial

The Power of Relationships – "Strengthening your Network"

Career advancement through interview preparedness, education and certification

E-Discovery Managed Services: How to Achieve Stakeholder Buy-in

Social Media and Mobile Device Data Collection and Defensibility!

Ethics in eDiscovery: Do You Meet Expectations of Competency?

Cloud Discovery: How to Avoid Getting Caught in the Storm

Let's Get Personal: Is Your Case Right for Tech. Assisted Review/Predictive Coding?

How to Tame Preservation Costs and Risks

Doctor Algorithm – Or: How I learned to Stop Worrying and Love TAR 2.0

Taxation of Fees: Trends and Tips for Cost Recovery

Managing Privileged Documents

ESI Collection: The Basics of eDiscovery Document Production

What every paralegal needs to know before going solo!

Exhibit View for Paralegals

Transcript Pro for Paralegals

Preview of PDF+ 2017 for Paralegals
Continuing Legal Education Credit (CLE)

NALA: March 4-8, 2017, 2017 Paralegals Navigating Perilous Waters Cruise Event to be held on the Norwegian Epic Cruise Ship, sponsored by Perfectly Paralegal Consulting, Inc., is approved for 30.5 CLE credit, including 6.0 Ethics CLE and 7.5 Non Substantive CLE credit.
FRP: As approved by NALA, this seminar meets the requirements under Rule 20-6.1 of the Rules Regulating The Florida Bar for 30.5 hours of continuing legal education credit required to maintain the FRP credential.
NALS: This event has been approved by NALS for 30.5 CLE credit.
NFPA accepts substantive CLE hours bearing NALA accreditation.

Please note: Topics such as law office management, computer training, and other law-related topics are considered by NALA to be under the non-substantive category, which is limited to 10 hours per five-year certification period.
The CLE Credits from this program are pre-approved by NALA and can be used for your CLE requirements with any other associations which accept credits that hold NALA's approval. A certificate of completion is awarded upon completion of all classes within this program. It is the students responsibility to ensure NALA approved credits will be accepted. If you aren't sure, please e-mail [email protected] for assistance.