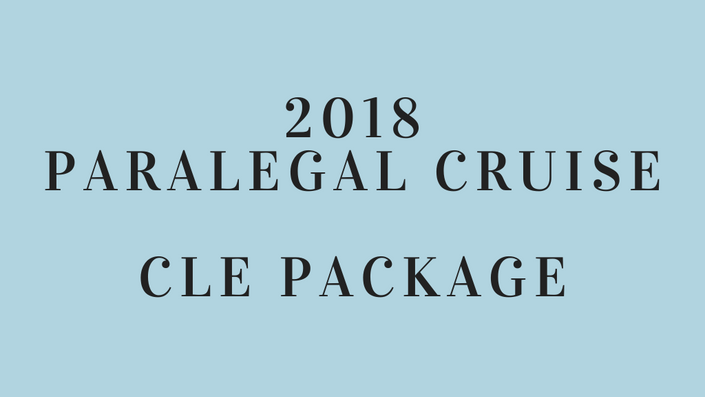 2018 Paralegal Cruise
25.0 CLE (Including 3.0 Ethics)
As paralegals, we know it's important to never stop learning and keep our skills fresh and relevant. Add to that, the requirement to report continuing legal education credits to a variety of different entities. While many firms pay for the continuing education requirements for attorneys, many of those same firms do not cover those expenses for their paralegals even though they benefit from the education and certification of their paralegals. Even when firms do pay, it can be time consuming to collect all of the necessary credits, especially if you've waited until the last minute.
The annual Paralegals Navigating Perilous Waters cruise event is a fun and convenient way for paralegals to obtain a large chunk of their CLE credits at a really reasonable cost while enjoying a fantastic tropical cruise vacation. Of course, there is a lot more to the cruise than CLE and you won't find yourself falling asleep in a boring conference room, so make sure you check out the next cruise and join us in person!
If you missed the 2018 Paralegal Cruise but need CLE credits or just want to benefit from the awesome continuing information provided by our hand picked speakers, the great news is that you can still sign up for a virtual pass and receive access to recordings of the CLE seminars to do at your convenience.
The 2018 Paralegal Cruise includes these programs:
HIPAA, Privacy and Litigation
Paralegals in the litigation profession embark on discovery that may involve complex matters pertaining to privacy laws, including obtaining medical records and other sensitive information from governmental and private organizations. This course will provide a brief overview of the HIPAA implications involved in obtaining records, various federal and state privacy laws, and their implications in civil litigation, domestic relations, and probate law.
Locating, Vetting & Working With Expert Witnesses
Those who utilize expert witnesses to offer opinions concerning liability, causation, damages, and/or valuation are often challenged with the task of finding the right expert and engaging his or her services on behalf of a client. Many times, this is no easy task even for the veteran attorney or paralegal. Through this seminar, attorneys and paralegals will understand the selection, location, vetting, retention, fee structures and preparation of expert witnesses and take away some practical nuggets in these and other areas such as creating an expert database, communicating with experts and conflicts of interest.
Real Estate Due Diligence
You found the perfect house, the seller has accepted your offer, and you are ready to close and move in! But as a paralegal specializing in something other than real estate, you may not be familiar with a title commitment or land survey. Do you know what document gives the city or county permission to take/use a portion of your property? Or whether a lender or vendor has a lien on your home? Is that greenbelt behind your house a "real" greenbelt or will you someday have a movie theatre in your backyard? This seminar shows you what real estate agents and subdivision sales agents don't know or won't tell you and gives you hands-on experience in reviewing title commitments and land surveys, so you can have the answers you need before buying a new home.
Shipwrecked on Court Reporting Island
Do you have a perplexing issue for your next deposition setting? Is opposing counsel's requests complicating matters? Do you feel at times you are navigating in rough seas? Let these three reporting experts help you get to shore with what could be lifesaving information. This fun and interactive seminar will include entertaining stories about their "disasters" at sea, give insight into the services available from reporting professionals, and also provide some great takeaways for avoiding your next iceberg.
Up Close and Personal with Paralegal Certification Programs
Jill I. Francisco, ACP will explain in detail the changes to NALA's Certified Paralegal Exam that began in January of 2018. She will also specifically explain the new format and testing windows. Jill will discuss NALA's Advanced Certification Program and share her personal experience with obtaining the CP and ACP certifications. She will discuss reasons for taking the CP exam and reasons for continuing your certification through the ACP program, Jill will also provide study tips and host a question and answer session.
Name that Paralegal Ethics Tune
This fun, interactive course will explore various paralegal ethical situations using music. I will play different songs related to various paralegal ethical situation, let the audience guess something about the song (title, band that played it, etc.) and the first person to provide me with the correct "name that paralegal ethics tune" answer will win a fabulous take home prize. I will then discuss the topic raised by the song. Here is an example. I will play part of the song "Confidential Information." If you are the first person to guess it is by the band the Rembrandts, you win a prize. Then we examine a paralegal's duty of confidentiality. We keep moving on to the next topic in the same format for an exciting one hour of ethics CLE!
Power Paralegals: Jumpstart Your Day
In this lifestyle seminar you will learn techniques on increasing productivity by taking breaks; gaining confidence by adjusting your posture; toning your muscles even if you can't go to the gym and feeling great and looking great with only a little effort.

In this lifestyle seminar you will learn techniques on finding your center and staying calm during the storm; de-cluttering your mind to get to your most productive center; using Feng Shui to soothe your spirit in a chaotic office space and distinguish how food may be affecting your mood.
Calculating Economic Damages in Wrongful Termination and Class Action Cases
During this presentation, Ms. Ostrofe discussed:
• Wrongful Termination Damages
• Determining The Period of Loss
• Expected Period of Unemployment
• Determining Lost Earning Rate
• Determining Future Earning Rate
• Mitigation Earing Capacity
• Discounting To Present Value Wages
• Discounting Future Lost Wages to Present Value
• Discovery
• Opposing Experts
• Consequential Damage
• Class Action Cases
Dementia and Modern Legal Practice
During this presentation, Dr. Farah discussed:
The definition of dementia;
Mild cognitive impairment and types of treatment;
Prevention;
Medical and legal risks; and
Insights and further implications
During this presentation, Ms. Lowe discussed:
Types of Cases
Two kinds of Handwriting Experts
Types of Forgery
Synchronous Writing
Range of Variation
Signs of Forgery
Parameters to Determine Proper Use of Force
During this presentation, Tim Dimoff discussed:
Use of force policy
Reasons
Factors for consideration
Levels of resistance
Rules
Patent Litigation from an Expert's Point of View
During this presentation, Dr. Direen discussed:
Patents
Product analysis and reverse engineering
Plaintiff and defense side notes
Defense side notes
Non-testifying consultants
Depositions
Court testimony
Reading Financial Statements for Lawyers and other Legal Professionals Part 1
During this presentation, Mr. O'Neill discussed:
Accounting equation
Liability and equity
GAAP (General Accepted Accounting Principles)
Significant principles
Accounting methods
Levels of assurance
Balance sheets
Asset categories
Reading Financial Statements for Lawyers and other Legal Professionals Part 2

During this presentation, Mr. O'Neill discussed:
Matching principles
Cost of goods sold
Manufacturing/construction
Income statements
Cash flow statements
Investment/financial activities
Balance sheet test cases
Liabilities and retained earnings
Toxicology 101 for Attorneys other Legal Professionals
During this presentation, Dr. Muller discussed:
The expected effects on the body from common street and prescription drugs
The difference between drug/alcohol levels obtained from blood, urine and breath
Common false negatives when interpreting drug screen results
The utility of drug levels for commonly encountered street and legal drugs
The correlation between drug and alcohol levels and level of impairment
Valuing Economic Damages in Class Action Litigation
During this presentation, Ms. Ostrofe discussed:
Product liability damages
Valuation terms
Methods for assessing value
Typical claims in wage and hour cases
Why data economists rely upon to value claims
Federal Labor Standards Act cases
Working with your economic expert
Working with a Forensic Accounting Expert on Financial Crime Cases
During this presentation, Ms. Lee discussed:
Types of financial crime cases
Uses of a forensic accounting expert
Objectivity and key rules
Hiring a forensic accounting expert
Ten phases in hiring and working with a forensic accounting expert
Litigation of Building Defects Part 1
During this presentations, Donald discussed:
The Main Points
What's At Stake
Categories of Damages
Who is Harmed?
Litigation of Building Defects Part 2
During this presentations, Donald discussed:
Who's At Fault?
Litigation Challenges
How to Select Your Expert(s)
Conclusions & Recommendations
e-Discovery Primer
In this seminar we will discuss the basics of e-Discovery. It's a hot topic and everyone wants you to know about it and know how to do it, even if you don't actually "have" to do it as part of your job. You might be surprised how much e-discovery is happening around you all day every day even outside of the office.

The problem is, most e-discovery seminars assume that you already know a little bit about e-discovery and skip over the basics, or they teach you a little bit about e-discovery but the real focus is on selling you their e-discovery system. In this beginners level seminar we will talk about the differences between discovery and e-discovery, how e-discovery works, why it's an issue and how it impacts paralegals. We will learn about where ESI is found (if you don't know what ESI is, you need to take this seminar NOW!), who has it and who is responsible for it. We will talk about all kinds of e-discovery terminology… metadata, native formats, hash values, de-NISTing, meet and confers, some best practices and more.
Trial Binders 101
Experienced trial paralegal Linda McGrath-Cruz provides a comprehensive lesson on trial binders and paralegal toolkits. In this course, we'll discuss the following:

The purpose and importance of the trial binder.
The various formats you may want to consider and the pros and cons of each.
We will provide a step by step explanation of exactly what should be included and the critical information needed to transform a so-so trial binder into a case changing gold mine of information.
We will go into detail about witness information necessary, whether its contained within the trial binder or in separate witness binders.
To make sure you are ready for every scenario, we will go over juror notebooks as well.
Finally, we'll discuss what you should and should NOT include in your paralegal toolbox.
You will walk away with the confidence and skills needed to prepare a trial binder that your trial team will be impressed with, even if you've NEVER made one before!

Continuing Legal Education Credit (CLE)
NALA CP or ACP: March 3 – 7, 2018, 2018 Paralegals Navigating Perilous Waters Cruise Event to be held on the Norwegian Epic Cruise Ship, sponsored by Perfectly Paralegal Consulting, Inc., is approved for 25 CLE credit including, 1.0 non substantive (Up Close and Personal with Paralegal Certification Programs) and 3.0 Ethics CLE credit. This approval does not expire.
NALA note: Topics such as law office management, computer training, and other law-related topics are considered by NALA to be under the non-substantive category, which is limited to 10 hours per five-year certification period.

Florida Bar FRP: As approved by NALA, this seminar meets the requirements under Rule 20-6.1 of the Rules Regulating The Florida Bar for 25 general hours (including 3 ethics hours) of continuing legal education credit required to maintain the FRP credential. This approval does not expire.

NALS: March 3 – 7, 2018, 2018 Paralegals Navigating Perilous Waters Cruise Event to be held on the Norwegian Epic Cruise Ship, sponsored by Perfectly Paralegal Consulting, Inc., is approved for 25 CLE credit including 3.0 Ethics CLE credit. This approval does not expire.

NFPA RP® or CRP™: NFPA automatically accepts CLE hours which bears the accreditation of NALA on the certificate of attendance. A certificate of attendance will be provided upon request for NFPA purposes if needed. This approval does not expire.
South Carolina: This program has been approved by the South Carolina Bar for South Carolina Certified Paralegals for a total of 25.5 CPE hours including 3.0 hours of Ethics/Professional Responsibility. Approval SCCP.

Other Reporting Entities: Almost all paralegal associations accept credits which are pre-approved by NALA. If you aren't sure and you want to double check, please e-mail [email protected] before you purchase the program and we can help you determine whether you can use these credits are not.