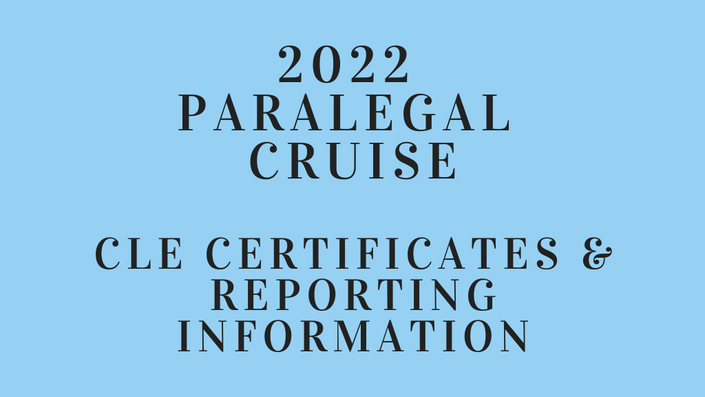 CLE Materials - 2022 Paralegal Cruise
CLE Certificates & Reporting Information
This program features computer generated closed captioning.
Program Includes: Video & PowerPoint
Important Information
Please do not sign-up for this course if you have previously purchased the 2022 Paralegal Cruise package as this will be a duplicate. You can view cruise packages here.
Please visit this link for answers to Frequently Asked Questions about our CLE: www.perfectlyparalegal.com/p/clefaq
Sponsor
This course has been provided by The TASA Group. Founded in 1956, The TASA Group is the leading provider of a variety of quality, independent, testifying and consulting experts nationwide, giving clients access to seasoned professionals in 11,000+ technical and medical specialties. The TASA Group is dedicated to providing the best experts and consultants available to meet clients' diverse needs.
You can check out their website at: https://www.tasanet.com/
CLE Approval is Pending
Credits are typically approved for use by paralegals who report to:
NATIONAL ASSOCIATION OF LEGAL ASSISTANTS (NALA)
THE FLORIDA BAR FOR FLORIDA REGISTERED PARALEGALS (FRP)
NATIONAL FEDERATION OF PARALEGAL ASSOCIATIONS, INC. (NFPA)
NALS THE ASSOCIATION FOR LEGAL PROFESSIONALS (NALS)
NORTH CAROLINA BAR ASSOCIATION BOARD OF PARALEGAL CERTIFICATION
SOUTH CAROLINA BAR ASSOCIATION BOARD OF PARALEGAL CERTIFICATION
PARALEGAL DIVISION OF THE STATE BAR OF TEXAS