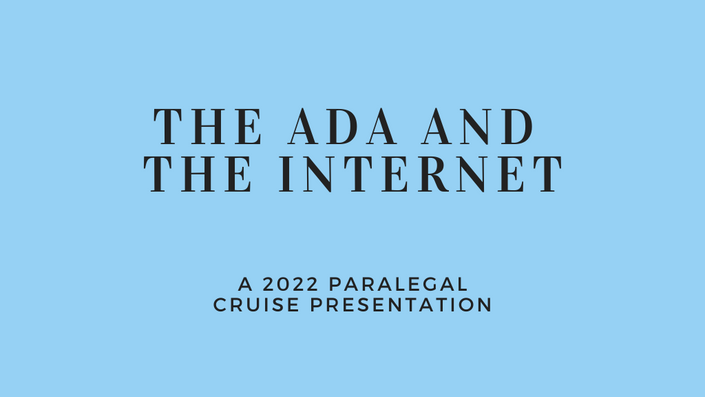 The ADA and the Internet
1.0 CLE
Board-certified civil trial attorney, Richard Hunt presents The ADA and the Internet: Stormy Weather Ahead, for all legal professionals.
During this presentation, Mr. Hunt discussed:
Understanding website accessibility
Why accessibility matters to your client
History of website accessibility law and litigation
What we know and don't know about the law today
Dealing with uncertainty - an ounce of prevention
What to do if your client is sued
Sideshows and real concerns
A call to action
About the Presenter:
Richard is a Board Certified Civil Trial Lawyer with thirty-seven years of experience representing businesses and individuals in litigation, arbitration, and mediation. He has served as an adjunct professor teaching Disability Law at the Dedman School of Law at Southern Methodist University and has served on the Examination Committee for Civil Trial Certification for the Texas Board of Legal Specialization and as an adjunct professor of trial advocacy at Texas Wesleyan School of Law. Richard is the author of Accessibility Defense (accessdefense.com), a blog for businesses that focuses on avoiding and defending lawsuits brought under the Americans with Disabilities Act and Fair Housing Act. Richard frequently speaks on ADA and FHA issues and presents webinars of these and other topics. He has been interviewed by The Economist and Forbes, among other publications, on issues related to ADA and FHA litigation.
This program features computer generated closed captioning.
Program Includes: Video & PowerPoint
Important Information
Please do not sign-up for this course if you have previously purchased the 2022 Paralegal Cruise package as this will be a duplicate. You can view the 2022 Paralegal Cruise package
here
. You can view prior years cruise packages
here
.
Please visit this link for answers to Frequently Asked Questions about our CLE: www.perfectlyparalegal.com/p/clefaq
Sponsor
This course has been provided by The TASA Group. Founded in 1956, The TASA Group is the leading provider of a variety of quality, independent, testifying and consulting experts nationwide, giving clients access to seasoned professionals in 11,000+ technical and medical specialties. The TASA Group is dedicated to providing the best experts and consultants available to meet clients' diverse needs.
You can check out their website at: https://www.tasanet.com/
Continuing Legal Education Credit (CLE)
NALA CP or ACP: This course has been approved as part of the 2022 Paralegals Navigating Perilous Waters Cruise Event, sponsored by Perfectly Paralegal Consulting, Inc., and is approved for 1 CLE credit.
Florida Bar FRP: As approved by NALA, this seminar meets the requirements under Rule 20-6.1 of the Rules Regulating The Florida Bar for continuing legal education credit required to maintain the FRP credential.
NFPA RP® or CRP™: NFPA automatically accepts substantive CLE hours which bears the accreditation of NALA on the certificate of attendance.
State Bar of Texas – Paralegal Division – The Division will accept substantive law CLE approved by the National Association of Legal Assistants for credit towards the Paralegal Division mandatory membership renewal CLE requirement.
NALS: This course has been approved by NALS for 1.0 General CLE.
North Carolina: Pending

South Carolina: Pending