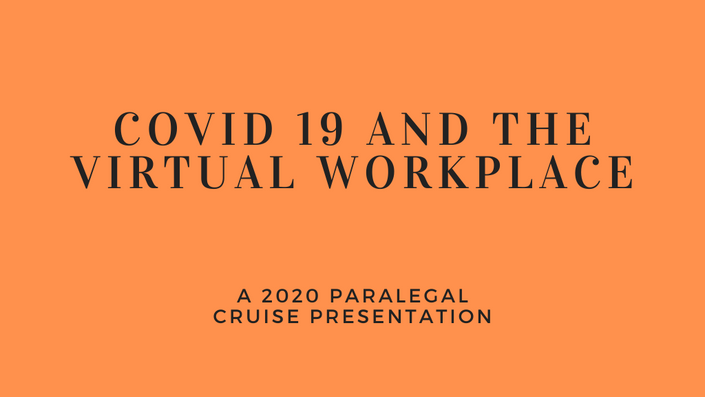 Covid 19 and the Virtual Workplace
1.0 CLE
COVID-19 and the Virtual Workplace
This seminar will discuss important issues for dealing with our "new normal" including:
Taking care of yourself – best practices for success and avoiding burnout while working from home
Creating a constructive office environment while working from remotely
Collaboration – communication is key
Zoom Etiquette
Tips and tricks for working parents
Pros and cons of working remotely
Virtual interview preparation
Returning to the workplace – issues you may encounter
Felice Solomon brings thirty years of extensive, successful legal and administrative recruitment experience to the South Florida marketplace. Originally from New York City, Felice began her career working in several of New York's finest law firms in various capacities including office management, paralegal, legal secretarial and executive assistant.
Felice formed the Solomon Search Group in June of 2009 and has continued successful growth of her firm which includes eight recruiters. Felice and her team are experts at identifying, evaluating, and recruiting top-notch talent for her clients. She comes with a complete understanding of the various cultures within law firms and corporations. In addition, she has an overall appreciation of the many challenges hiring authorities face daily and the encounters of recruitment in a candidate driven market.

Program Includes: Video and Powerpoint
Important Information
Please do not sign-up for this course if you have previously purchased the 2020 Paralegal Cruise package as this will be a duplicate. You can learn about the 2020 Paralegal Cruise Package
here
.
Please visit this link for answers to Frequently Asked Questions about our CLE: http://miamifrp.com/cle-faq/

This program features optional computer-generated Closed Captioning in English and transcripts for your convenience.
Continuing Legal Education Credit (CLE)
Program Name: Covid-19 and the Virtual Workplace
NALA CP or ACP: As part of the 2020 Paralegals Cruise Event sponsored by Perfectly Paralegal Consulting, this individual program is approved for 1 CLE credit including 0 ethics CLE credit and 1 non-substantive credit.
Florida Bar FRP: As approved by NALA, this seminar meets the requirements under Rule 20-6.1 of the Rules Regulating The Florida Bar for 1 general hours of continuing legal education credit (including 0 ethics hours and 0 technology hours) required to maintain the FRP credential.
NFPA RP® or CRP™: NFPA accepts CLE hours which bears the accreditation of NALA on the certificate of attendance.
North Carolina: This program has been approved by The North Carolina State Bar, Board of Paralegal Certification, for 1 CLE credit including 0 ethics CLE credit and 1 general CLE credit. This approval expires on April 30, 2023.
South Carolina: This program has been approved for South Carolina Certified Paralegals for 1 CLE credit including 0 ethics CLE credit and 1 general CLE credit.


Other Reporting Entities: If you aren't sure and you want to double check, please e-mail [email protected] before you purchase the program and we can help you determine whether you can use these credits or not.
Thank you to the sponsors of the 2020 Paralegal Cruise