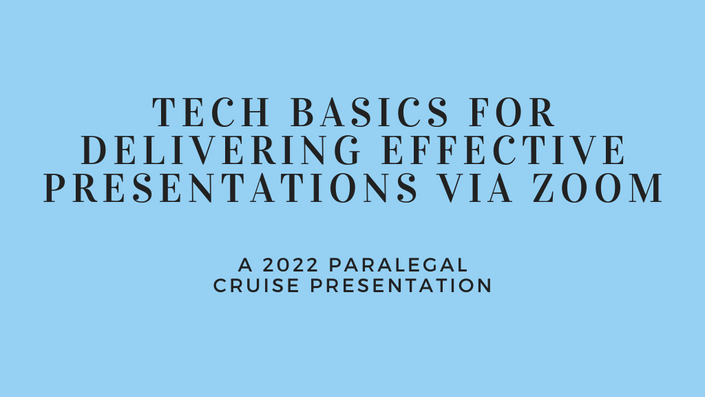 Tech Basics for Delivering Effective Presentations via Zoom
1.0
Tech superstar paralegal Carol Goraczko will cover a variety of topics including:
Assess Your Tech
Ways to Improve WiFi Connection
Critical Steps to Take BEFORE Your Zoom
How to Prepare your Attorney
Presenting Evidence
Screen Sharing, Using Presenter Mode & More
Speaker:
Carol Goraczko has been in the legal field since 2002 and has been a paralegal with Stewart Tilghman Fox Bianchi & Cain, P.A. since 2009. She works alongside her attorneys from case inception through trial. Having started her career doing medical malpractice defense, she found her home at STFBC working for Plaintiffs who have been catastrophically injured or who have lost a loved one because of malpractice.
Carol's role at her firm is very focused in technology and includes creating presentations for mediations, focus groups and trials, filming and editing Day-in-the-Life video, managing her firm's social media pages and dealing with day-to-day technical issues in the office. She is well versed in Microsoft Office, Adobe, Final Cut Pro, Canva, Zoom, other video conferencing platforms, and more.
Carol graduated with honors from Florida International University with a Bachelor of Science Degree in Criminal Justice and Sociology. She has been a Florida Registered Paralegal since 2009 and is also a Notary Public, having used the latter title to officiate weddings for close friends. In 2020 she became commissioned as a Florida Remote Online Notary. She has enjoyed volunteering in and outside of the legal field, previously serving as a judge during the Miami Dade County High School Mock Trial competition, a scorer for The Robert Orseck Moot Court Competition (Florida Bar YLD) and volunteering in her own kids' schools as room mom and past secretary of the PTA. In January 2021, she was inducted as Chapter Secretary for the Broward Chapter of the Paralegal Association of Florida, Inc. In January 2022, she was elected by members to serve as Broward Chapter President.
This program features computer generated closed captioning.
This course is a recording of a live event which took place as part of the 2022 Paralegal Cruise.
The video recording may include some background noise or other interruptions typical of live events.
Program Includes: Video & Handout
Important Information
Please do not sign-up for this course if you have previously purchased the 2022 Paralegal Cruise package as this will be a duplicate. You can view the 2022 Paralegal Cruise package
here
. You can view prior years cruise packages
here
.
Please visit this link for answers to Frequently Asked Questions about our CLE: www.perfectlyparalegal.com/p/clefaq
Continuing Legal Education Credit (CLE)
NALA CP or ACP: This course has been approved as part of the 2022 Paralegals Navigating Perilous Waters Cruise Event, sponsored by Perfectly Paralegal Consulting, Inc., and is approved for 1 CLE credit (including 1 Non-Substantive Credit).
Florida Bar FRP: As approved by NALA, this seminar meets the requirements under Rule 20-6.1 of the Rules Regulating The Florida Bar for continuing legal education credit required to maintain the FRP credential.
NALS: This course has been approved by NALS for 1.0 General CLE.