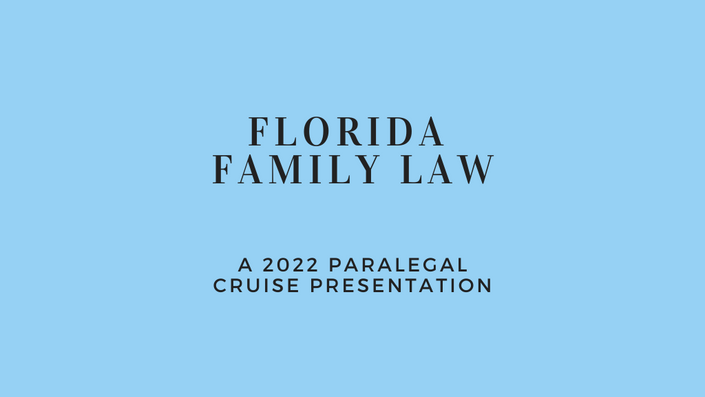 Florida Family Law
1.0 CLE
Experienced family law paralegal Michelle Ridge provides an overview of Florida Family Law, including:
- State Supreme Court Approved Forms/Resources
- The path of litigating divorce and paternity actions
- Understanding the procedures in finalizing divorce and paternity action
Speaker:
Michelle Ridge has 30+ years of legal experience, primarily in family law and then a couple of years in insurance defense and recently began working in plaintiff's medical malpractice and personal injury for a law firm . During her tenure, with the Paralegal Association of Florida, Inc. ("PAF"), she served as NALA Liaison, Technology Committee, Past President for the Boca Raton Chapter and 1st Vice President for the Big Bend Chapter. Michelle was the proud recipient of the 2016 NALA Affiliate award given in Las Vegas, NV, on behalf of PAF.


She is currently the President of the Big Bend Chapter and is a member of the Boca Raton Chapter and the National Association of Legal Assistants (NALA). She has an affinity for culinary delights, the mother of 2 blonde chihuahua fur babies and the grandma of her first grandchild.
This program features computer generated closed captioning.
This course is a recording of a live event which took place as part of the 2022 Paralegal Cruise.
The video recording may include some background noise or other interruptions typical of live events.
Program Includes: Video & PowerPoint
Important Information
Please do not sign-up for this course if you have previously purchased the 2022 Paralegal Cruise package as this will be a duplicate. You can view the 2022 Paralegal Cruise package
here
. You can view prior years cruise packages
here
.
Please visit this link for answers to Frequently Asked Questions about our CLE: www.perfectlyparalegal.com/p/clefaq
Sponsor
This course has been provided by The TASA Group. Founded in 1956, The TASA Group is the leading provider of a variety of quality, independent, testifying and consulting experts nationwide, giving clients access to seasoned professionals in 11,000+ technical and medical specialties. The TASA Group is dedicated to providing the best experts and consultants available to meet clients' diverse needs.
You can check out their website at: https://www.tasanet.com/
Continuing Legal Education Credit (CLE)
NALA CP or ACP: This course has been approved as part of the 2022 Paralegals Navigating Perilous Waters Cruise Event, sponsored by Perfectly Paralegal Consulting, Inc., and is approved for 1 CLE credit.
Florida Bar FRP: As approved by NALA, this seminar meets the requirements under Rule 20-6.1 of the Rules Regulating The Florida Bar for continuing legal education credit required to maintain the FRP credential.
NFPA RP® or CRP™: NFPA automatically accepts substantive CLE hours which bears the accreditation of NALA on the certificate of attendance.
State Bar of Texas – Paralegal Division – The Division will accept substantive law CLE approved by the National Association of Legal Assistants for credit towards the Paralegal Division mandatory membership renewal CLE requirement.
NALS: This course has been approved by NALS for 1.0 General CLE.