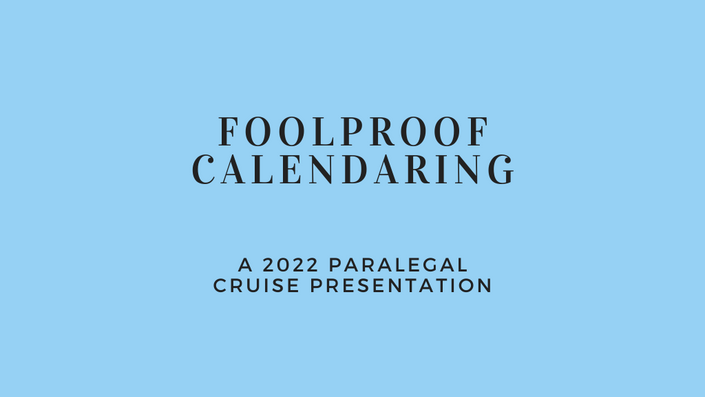 Foolproof Calendaring
1.0 CLE
Senior litigation paralegal Candy Ryan presents Foolproof Calendaring for Paralegals: Never Miss a Deadline. This program covers:
I. Correctly Calculating Deadlines and Filings
II. Best Websites and Software Resources for Legal Deadline Calculations
III. Calendaring Events, Deadlines, Appointments, etc.
IV. Common Calendaring Mistakes -and How to Avoid Them
V. Docket and Calendar Management Insights
VI. Tips and Tricks for Microsoft Outlook and Google Calendar Users
Speaker:
Candy Ryan, CRP™, BA, is the Senior Litigation Paralegal at The Silvera Firm in Dallas, Texas. She has an extensive career handling such diverse matters as non-subscriber defense and subrogation, commercial litigation, insurance defense, bankruptcy, business and corporate, probate and trust, real estate, trucking, railroad, and family law. She is experienced in both federal and state courts in numerous jurisdictions, including, Texas, California, Washington, Oregon, Arkansas, Oklahoma, New York, and New Jersey. Ms. Ryan has been an active part of the legal community since 1980, having worked in Seattle, San Diego, and Dallas. She is a graduate of the University of San Diego, ABA accredited Paralegal Studies Program (1988) and has specialized in litigation for more than 35 years. In addition, she is one of the initial 16 paralegals to be certified by the National Federation of Paralegal Association (NFPA) as a CORE Registered Paralegal (CRP) in the State of Texas and one of the first 200 CRPs in the United States. Further she received her B.A. in Legal Studies in 2015. She enjoys public speaking and has been a regular contributor to NBI/IPE seminars since 1999 as well as presenting continuing legal education at the 2017 Paralegal Cruise on Ethics and the 2019 Paralegal Cruise on Calendaring and Docketing. She has also served on the Board of Directors for the Dallas Area Paralegal Association in various positions as well as acting as a Coordinator for the National Federation of Paralegal Associations. In her free time, she loves to camp, kayak, hike, and scuba dive.
This program features computer generated closed captioning.
This course is a recording of a live event which took place as part of the 2022 Paralegal Cruise.
The video recording may include some background noise or other interruptions typical of live events.
Program Includes: Video & PowerPoint
Important Information
Please do not sign-up for this course if you have previously purchased the 2022 Paralegal Cruise package as this will be a duplicate. You can view the 2022 Paralegal Cruise package
here
. You can view prior years cruise packages
here
.
Please visit this link for answers to Frequently Asked Questions about our CLE: www.perfectlyparalegal.com/p/clefaq
Continuing Legal Education Credit (CLE)
NALA CP or ACP: This course has been approved as part of the 2022 Paralegals Navigating Perilous Waters Cruise Event, sponsored by Perfectly Paralegal Consulting, Inc., and is approved for 1 CLE credit (including 1 Non-Substantive Credit).
Florida Bar FRP: As approved by NALA, this seminar meets the requirements under Rule 20-6.1 of the Rules Regulating The Florida Bar for continuing legal education credit required to maintain the FRP credential.
NALS: This course has been approved by NALS for 1.0 General CLE.