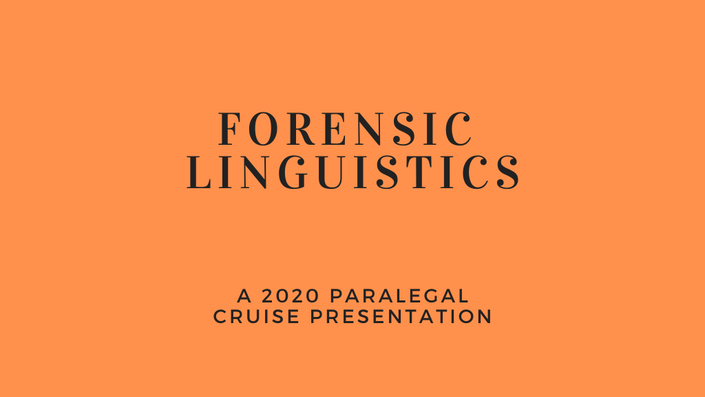 Forensic Linguistics
1.0 CLE
Forensic Linguistics
Computer science expert Dr. Patrick Juola, presents Forensic Linguistics, for all legal professionals. During this presentation, Dr. Juola discussed:
The definition of "forensic linguistics"
What it can do
Linguistics as "pattern evidence"
Two case studies (Binongo, Juola)
Accuracy and admissibility
Summary and questions
Dr. Patrick Juola is a professor of computer science at Duquesne University in Pittsburgh, PA. Dr. Juola received his Ph.D. (computer science) in 1995 from the University of Colorado. Dr. Juola is co-founder of a test analysis firm specializing in forensic analysis of electronic documents. He has also testified in international court cases on matters of authorship and is a prolific author and researcher with more than 200 scholarly articles.
Program Includes: Video & PowerPoint

Important Information
Please do not sign-up for this course if you have previously purchased the 2020 Paralegal Cruise package as this will be a duplicate. You can learn about the 2020 Paralegal Cruise Package here.
Please visit this link for answers to Frequently Asked Questions about our CLE: http://miamifrp.com/cle-faq/
Sponsor
This course has been provided by The TASA Group. Founded in 1956, The TASA Group is the leading provider of a variety of quality, independent, testifying and consulting experts nationwide, giving clients access to seasoned professionals in 11,000+ technical and medical specialties. The TASA Group is dedicated to providing the best experts and consultants available to meet clients' diverse needs.
You can check out their website at: https://www.tasanet.com/
This program features optional computer-generated Closed Captioning in English and transcripts for your convenience.
Continuing Legal Education Credit (CLE)
Program Name: Forensic Linguistics
NALA CP or ACP: As part of the 2020 Paralegals Cruise Event sponsored by Perfectly Paralegal Consulting, this individual program is approved for 1 CLE credit including 0 ethics CLE credit and 0 non-substantive credit.
Florida Bar FRP: As approved by NALA, this seminar meets the requirements under Rule 20-6.1 of the Rules Regulating The Florida Bar for 1 general hours of continuing legal education credit (including 0 ethics hours and 0 technology hours) required to maintain the FRP credential.
NFPA RP® or CRP™: NFPA accepts CLE hours which bears the accreditation of NALA on the certificate of attendance.
North Carolina: This program has been approved by The North Carolina State Bar, Board of Paralegal Certification, for 1 CLE credit including 0 ethics CLE credit and 1 general CLE credit. This approval expires on April 30, 2023.
South Carolina: This program has been approved for South Carolina Certified Paralegals for 1 CLE credit including 0 ethics CLE credit and 1 general CLE credit.


Other Reporting Entities: If you aren't sure and you want to double check, please e-mail [email protected] before you purchase the program and we can help you determine whether you can use these credits or not.
Thank you to the sponsors of the 2020 Paralegal Cruise