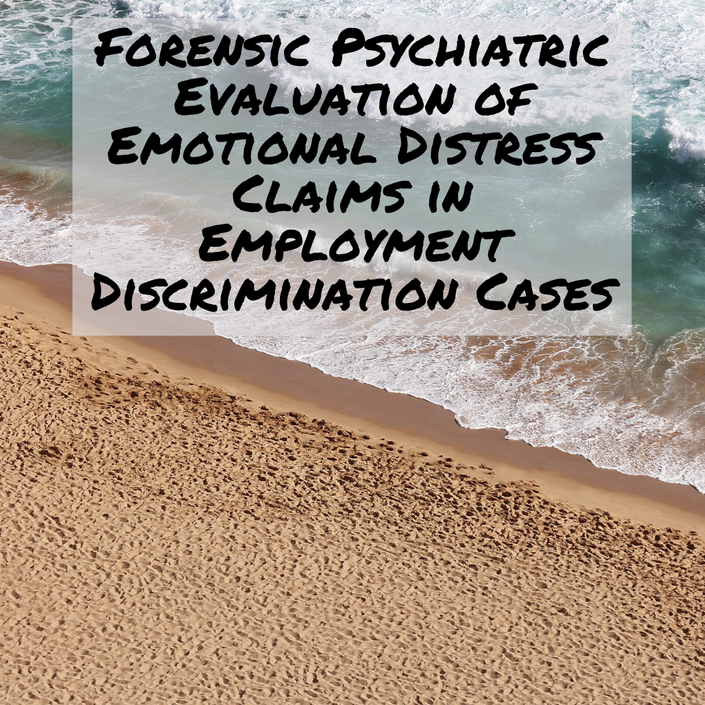 Forensic Psychiatric Evaluation of Emotional Distress Claims in Employment Discrimination Cases
1.0 CLE (Including .5 Ethics)
Forensic Psychiatric Evaluation of Emotional Distress Claims in Employment Discrimination Cases: Using Psychiatric Experts Wisely
Psychiatric expert Dr. Stuart Kleinman, presents Forensic Psychiatric Evaluation of Emotional Distress Claims in Employment Discrimination Cases: Using Psychiatric Experts Wisely, for all legal professionals. During this presentation, Dr. Kleinman discussed:
Assessment of emotional distress
Methodology
Prognosis
Objective/Subjective
The reasonable person
Malingering and misattribution
Advanced issues
Psychological tests
Assistance with investigations
Legal bases for damage claims
Stuart Kleinman, M.D. is a psychiatrist certified by the American Board of Psychiatry and Neurology in psychiatry and forensic psychiatry, and is an associate clinical professor of psychiatry at the Columbia University College of Physicians and Surgeons. Dr. Kleinman possesses specialized expertise in the field of traumatic stress. He has served as medical director of the crime victims center, where he oversaw the treatment of those suffering from the psychological consequences of trauma, and as an independent consultant both to the New York State Crime Victims Board, determining the role of criminal victimization in producing evaluee psychological difficulties, and to the Queens District Attorney's Special Victims Bureau assisting in determining the psychological safety of children testifying in the presence of their alleged abusers. Dr. Kleinman's longtime experience working with those who have suffered serious assaults and threats provides him with a deep, nuanced appreciation of PTSD and the use and misuse of this diagnosis.
Program Includes: Video & PowerPoint

Important Information
Please do not sign-up for this course if you have previously purchased the 2020 Paralegal Cruise package as this will be a duplicate. You can learn about the 2020 Paralegal Cruise Package here.
Please visit this link for answers to Frequently Asked Questions about our CLE: http://miamifrp.com/cle-faq/
Sponsor
This course has been provided by The TASA Group. Founded in 1956, The TASA Group is the leading provider of a variety of quality, independent, testifying and consulting experts nationwide, giving clients access to seasoned professionals in 11,000+ technical and medical specialties. The TASA Group is dedicated to providing the best experts and consultants available to meet clients' diverse needs.
You can check out their website at: https://www.tasanet.com/
Continuing Legal Education
This course is a pre-sale. The program will be available immediately upon purchase, but CLE credit will not be available for approximately 30 days. Once you sign up, you will be automatically notified when CLE credit forms are available and that information will automatically be added to your account.