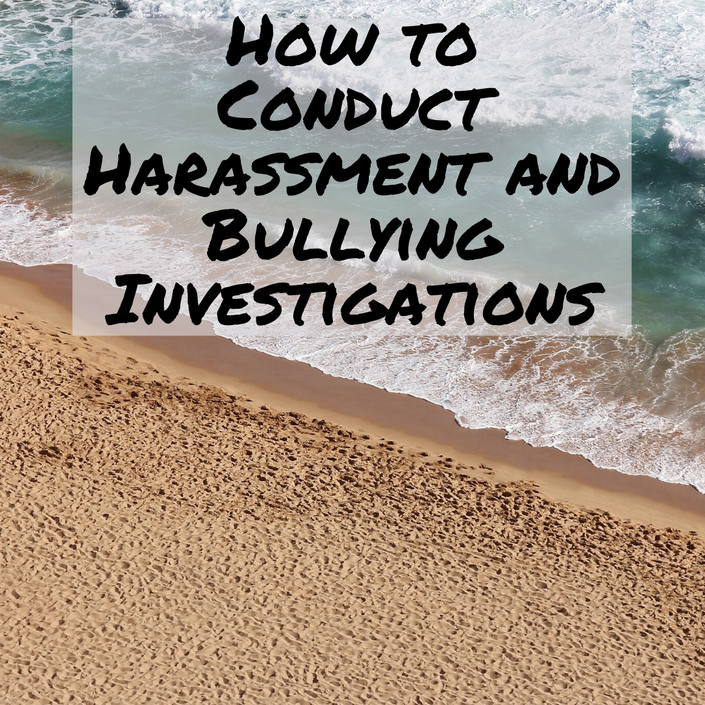 How to Conduct Harassment and Bullying Investigations
2.0 CLE (Including 1.0 Ethics)
How to Conduct Harassment and Bullying Investigations
Education and workplace harassment expert Dr. Susan Strauss, presents How to Conduct Harassment and Bullying Investigations, for all legal professionals. During this presentation, Susan discussed:
If investigation is necessary
Components of investigation
Steps of investigation
Interviewing the accuser, accused & witness
Formal and informal investigative procedure
Conclusions following investigation
Writing a formal report
Susan Strauss RN Ed.D. is a national and international speaker, trainer and consultant. Her specialty areas include education and workplace harassment, discrimination and bullying; organization development, and management/leadership development. Susan conducts bullying and harassment investigations, works as an expert witness for education and workplace harassment and bullying lawsuits, and coaches those managers and employees that need assistance in stopping their harassing or bullying behavior.
Program Includes: Video & PowerPoint

Important Information
Please do not sign-up for this course if you have previously purchased the 2020 Paralegal Cruise package as this will be a duplicate. You can learn about the 2020 Paralegal Cruise Package here.
Please visit this link for answers to Frequently Asked Questions about our CLE: http://miamifrp.com/cle-faq/
Sponsor
This course has been provided by The TASA Group. Founded in 1956, The TASA Group is the leading provider of a variety of quality, independent, testifying and consulting experts nationwide, giving clients access to seasoned professionals in 11,000+ technical and medical specialties. The TASA Group is dedicated to providing the best experts and consultants available to meet clients' diverse needs.
You can check out their website at: https://www.tasanet.com/
Continuing Legal Education
This course is a pre-sale. The program will be available immediately upon purchase, but CLE credit will not be available for approximately 30 days. Once you sign up, you will be automatically notified when CLE credit forms are available and that information will automatically be added to your account.