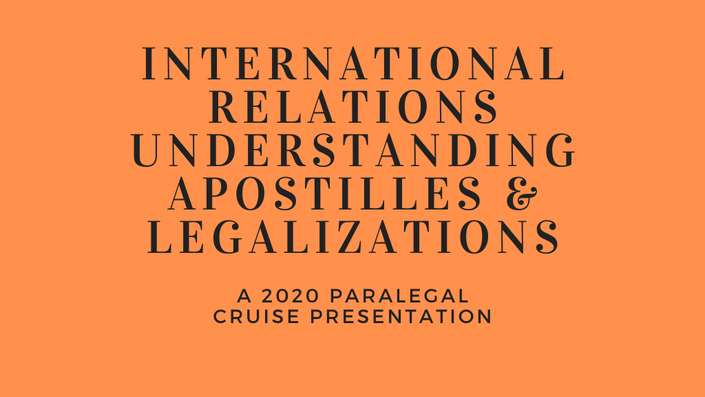 International Relations Understanding Apostilles & Legalizations
1.0 CLE
International Relations: Understanding Apostilles & Legalizations
Apostilles & Legalizations, in the simplest of terms, is an international notarization. It is to authenticate the seals and signatures of officials on public documents (such as birth/death certificates, court orders, marriage licenses, divorce decrees, corporate Certificates of Good Standing, or any other document issued by a public authority), determine if those documents may be apostilled or not, and to have those documents be recognized in foreign countries. This presentation will cover the Hague Apostille Convention and briefly the determination of the origin country (including U.S.) of the document if it is public or not, such as those originating from a court, process server, Secretary of State, US Patent & Trademark Office, etc.
James Crawford is a corporate compliance professional and currently a Regional Account Executive for Registered Agent Solutions, Inc. (RASi). James has spent the last 15 years consulting with law firms, banks, and in-house counsel on entity management and compliance. His expertise includes registered agent services, corporate formations and filings, business compliance, and UCC filings. He graduated with a Bachelor's Degree from Penn State University and currently resides in Raleigh, NC with his wife, Jen and son James.
Program Includes: Video
Important Information
Please do not sign-up for this course if you have previously purchased the 2020 Paralegal Cruise package as this will be a duplicate. You can learn about the 2020 Paralegal Cruise Package here.
Please visit this link for answers to Frequently Asked Questions about our CLE: http://miamifrp.com/cle-faq/
This program features optional computer-generated Closed Captioning in English and transcripts for your convenience.
Continuing Legal Education Credit (CLE)
Program Name: International Relations: Understanding Apostilles and Legalizations
NALA CP or ACP: As part of the 2020 Paralegals Cruise Event sponsored by Perfectly Paralegal Consulting, this individual program is approved for 1 CLE credit including 0 ethics CLE credit and 0 non-substantive credit.
Florida Bar FRP: As approved by NALA, this seminar meets the requirements under Rule 20-6.1 of the Rules Regulating The Florida Bar for 1 general hours of continuing legal education credit (including 0 ethics hours and 0 technology hours) required to maintain the FRP credential.
NFPA RP® or CRP™: NFPA accepts CLE hours which bears the accreditation of NALA on the certificate of attendance.
North Carolina: This program has been approved by The North Carolina State Bar, Board of Paralegal Certification, for 1 CLE credit including 0 ethics CLE credit and 1 general CLE credit. This approval expires on April 30, 2023.
South Carolina: This program has been approved for South Carolina Certified Paralegals for 1 CLE credit including 0 ethics CLE credit and 1 general CLE credit.


Other Reporting Entities: If you aren't sure and you want to double check, please e-mail [email protected] before you purchase the program and we can help you determine whether you can use these credits or not.
Thank you to the sponsors of the 2020 Paralegal Cruise