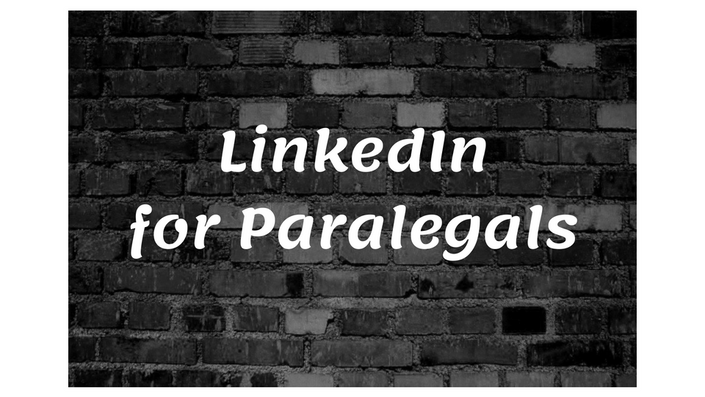 LinkedIn for Paralegals
1.0 CLE
Note: LinkedIn recently changed the layout of their platform, you will receive immediate access to the current program, but we are in the process of re-recording sections displaying the new platform layout. You can sign up today and you'll receive the updated content at no charge as soon as it's uploaded.
This comprehensive LinkedIn course will provide you with the A to Zs of not only setting up your LinkedIn account and configuring your privacy settings, but also show you how to effectively use LinkedIn.
The total running time for this course is just over 2 hours, it's conveniently divided into sections so you can go directly to the area you need the most help with.
Whether you have yet to dip your toes into the LinkedIn social media experience, or have an account but aren't using it to it's fullest potential, this course will provide you a wealth of information.
No fluff, filler or boring power point slides here! Linda will guide you option by option through the LinkedIn site showing you the steps needed to accomplish each action. To top it off, you'll have access to reach out to Linda by e-mail for custom LinkedIn assistance at any time.
Topics covered include:
Opening an Account
Website Navigation
General Settings including primary and secondary e-mails and communications settings
Customize your LinkedIn URL for use on business cards and e-mail signatures
Privacy Controls including activity broadcasts, activity feed, who can see your activity, who can see your connections and photo visibility.
How to block or report problem users
Groups, Companies and Applications Settings
How to modify your profile, including setting your what portions of your profile are visible, setting a photo and customizing your LinkedIn profile address
Setting up your profile, including basic and expanded sections
Growing your network, the importance of being a LION even if you aren't in the market for a new job and ways to easily expand your connections
You'll be introduced to a paralegal group on LinkedIn with over 41,000 members and find out how to easily add hundreds of paralegals to your LinkedIn network
Lot's more…
You'll also receive a handy cheat sheet of suggested customizations.

About your Speaker
Linda McGrath-Cruz is a premises liability paralegal in the Risk Management department of Royal Caribbean Cruises, Inc. Linda has worked as a paralegal in the area of products liability, wrongful death, medical malpractice and premises liability defense since 1997 and specializes in discovery and trial practice. She is a NALA Certified Paralegal holding ACPs in five practice areas, is a Florida Registered Paralegal and in 2017, she obtained her Masters in Paralegal Studies. You can learn more about Linda on her website: http://miamifrp.com/about-linda/

With 17,800+ connections, Linda has been a LinkedIn power user since 2010. Linda was featured as a LinkedIn Success Story in the inaugural issue of LinkedIn Premium Insider, an online newsletter for premium user and was a featured presenter at The Tech Savvy Paralegal hosted by the Broward Chapter, Paralegal Association of Florida, during which she presented an abbreviated version of this more comprehensive course.
Please visit this link for answers to Frequently Asked Questions about our CLE: http://miamifrp.com/cle-faq/
Continuing Legal Education Credit (CLE)
NALA: This seminar is approved by the Certifying Board of the National Association of Legal Assistants (NALA) for 1.0 CLE non-substantive continuing legal education credit required to maintain the CP or CLA credential.
FRP: As approved by NALA, this seminar meets the requirements under Rule 20-6.1 of the Rules Regulating The Florida Bar for 1.0 hour of continuing legal education credit required to maintain the FRP credential.
Please note: Topics such as law office management, computer training, and other law-related topics are considered by NALA to be under the non-substantive category, which is limited to 10 hours per five-year certification period.

CLE Credits from this program are pre-approved by NALA and can be used for your CLE requirements with any other associations which accept credits that hold NALA's approval. A certificate of completion is awarded upon completion of this program. It is the students responsibility to ensure NALA approved credits will be accepted before signing up.
If you aren't sure, please e-mail [email protected] for assistance.