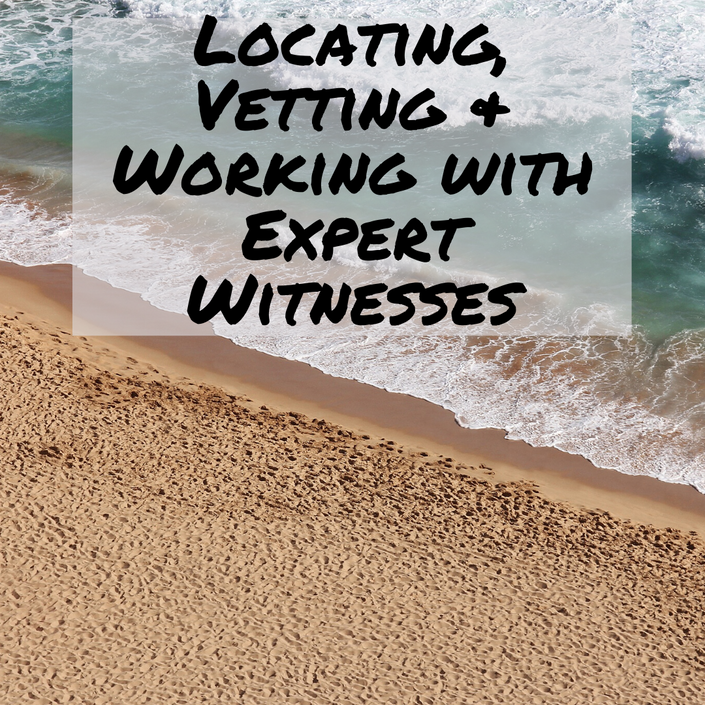 Locating, Vetting & Working with Expert Witnesses
1.5 CLE (Including .5 Ethics)
Locating, Vetting & Working with Expert Witnesses
Those who utilize expert witnesses to offer opinions concerning liability, causation, damages, and/or valuation are often challenged with the task of finding the right expert and engaging his or her services on behalf of a client. Many times, this is no easy task even for the veteran attorney or paralegal. Through this seminar, attorneys and paralegals will understand the selection, location, vetting, retention, fee structures and preparation of expert witnesses and take away some practical nuggets in these and other areas such as creating an expert database, communicating with experts and conflicts of interest.

Paul Pelton, FRP, is a Senior Litigation Paralegal with 30 years of experience in all phases of civil trial work.With an educational background in medical science and paralegal studies, Mr. Pelton concentrates his practice in high-exposure cases involving medical malpractice, nursing home resident's rights claims, product liability matters, and complex BI claims.Paul has handled casework for plaintiffs and defendants in State and Federal courts throughout Florida from inception through post-trial matters, and in arbitration and mediation proceedings. He is a published author and a CLE provider to national audiences on paralegal practice.Mr. Pelton serves the citizens of Florida through appointment by the Supreme Court of Florida to the Standing Committee on the Unlicensed Practice of Law for The Florida Bar through 2023; he was appointed Vice Chair of that Standing Committee through June 2020.In addition, Mr. Pelton is a member of the Executive Council of the Orange County Bar Association Paralegal Section where he currently serves as Chair of the Paralegal Mentorship Program.In 2017-2018, Mr. Pelton served as President of the Paralegal Section of the Orange County Bar Association and has served as a member of the Executive Council since 2015.Mr. Pelton serves the students of Valencia College as a member of the Advisory Council for Valencia College's Paralegal Studies Program through 2020.
Program Includes: Video, PowerPoint & Sample Document

Important Information
Please do not sign-up for this course if you have previously purchased the 2018 or 2020 Paralegal Cruise package as this will be a duplicate. You can learn about the 2020 Paralegal Cruise Package here.
Please visit this link for answers to Frequently Asked Questions about our CLE: http://miamifrp.com/cle-faq/
Continuing Legal Education
This course is a pre-sale. The program will be available immediately upon purchase, but CLE credit will not be available for approximately 30 days. Once you sign up, you will be automatically notified when CLE credit forms are available and that information will automatically be added to your account.