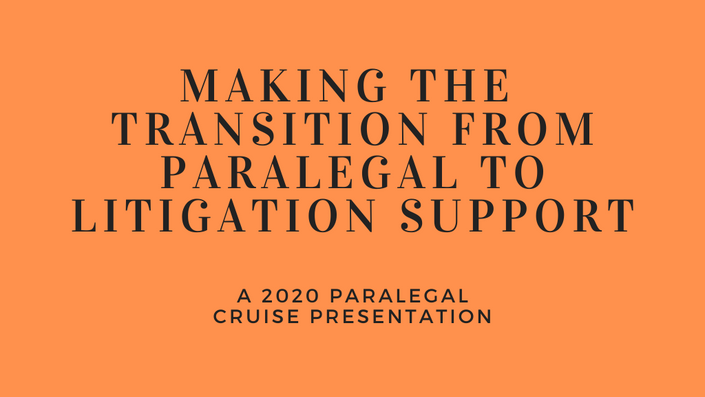 Making the Transition from Paralegal to Litigation Support
1.0 CLE
Making the Transition from Paralegal to Litigation Support
Paralegals are critical members of law firms and other organizations but are there things you can do to further increase your value in your organization and secure new career opportunities? Join this new webinar on Making the Transition from Paralegal to Litigation Support where ediscovery experts from Thomson Reuters will discuss how developing skills in ediscovery and other technology can expand your contribution to your organization and make you a marketable litigation support candidate.
After attending the webinar, you will gain insight into:
Skills you need to develop to become a litigation support professional
Challenges litigation support professionals need to be prepared to handle
How expectations for litigation support differ from those for paralegals
Resources available to help you make the transition
Jaye Wright is a native Texan, having grown up in West Texas prior to moving to Houston. She attended the University of Texas at Arlington and subsequently continued her studies at the University of Houston. She has more than 30 years of experience in the legal profession. Prior to joining Thomson Reuters, Jaye worked as a litigation paralegal for over 25 years for the law firms of Franklin, Cardwell & Jones and BoyarMiller, handling complex commercial litigation matters – from intake through discovery and depositions, as well as presentation of evidence during trial. She is passionate about litigation technology and the benefits it provides to attorneys and their staff in managing intense workloads.
Jaye joined Thomson Reuters in 2012 as an eDiscovery Specialist, providing training and workflow consultation to law firms and corporate counsel. Her prior experience as a litigation and trial paralegal within the law firm setting has enabled her to consult with clients on best practices for navigating the stages of the eDiscovery process, beginning at the legal hold and collection stage, review and production of documents to adversaries, all the way through presentation of evidence at trial. She is certified as an eDiscovery Specialist by the Association of Certified eDiscovery Specialists (ACEDS) and serves as Secretary and Membership Director for the Houston Chapter.
Program Includes: Video & PowerPoint
Important Information
Please do not sign-up for this course if you have previously purchased the 2020 Paralegal Cruise package as this will be a duplicate. You can learn about the 2020 Paralegal Cruise Package here.
Please visit this link for answers to Frequently Asked Questions about our CLE: http://miamifrp.com/cle-faq/
This program features optional computer-generated Closed Captioning in English and transcripts for your convenience.
Continuing Legal Education Credit (CLE)
Program Name: Making the Transition from Paralegal to Litigation Support
NALA CP or ACP: As part of the 2020 Paralegals Cruise Event sponsored by Perfectly Paralegal Consulting, this individual program is approved for 1 CLE credit including 0 ethics CLE credit and 1 non-substantive credit.
Florida Bar FRP: As approved by NALA, this seminar meets the requirements under Rule 20-6.1 of the Rules Regulating The Florida Bar for 1 general hours of continuing legal education credit (including 0 ethics hours and 0 technology hours) required to maintain the FRP credential.
NFPA RP® or CRP™: NFPA accepts CLE hours which bears the accreditation of NALA on the certificate of attendance.
North Carolina: This program has been approved by The North Carolina State Bar, Board of Paralegal Certification, for 1 CLE credit including 0 ethics CLE credit and 1 general CLE credit. This approval expires on April 30, 2023.
South Carolina: This program has been approved for South Carolina Certified Paralegals for 1 CLE credit including 0 ethics CLE credit and 1 general CLE credit.


Other Reporting Entities: If you aren't sure and you want to double check, please e-mail [email protected] before you purchase the program and we can help you determine whether you can use these credits or not.
Thank you to the sponsors of the 2020 Paralegal Cruise