You don't need a copywriter, you need a plan that works to get it done yourself!
Our workbook Your Next 20 Blog Posts Playbook is the shortcut to a developing a post schedule that will save your sanity.
For everyone who's wanted to...
Establish yourself as an expert in your field and have your ideal customers seeking you out!
Keep that blog rolling with minimal effort!
Be smarter about how you blog!
Plan things out and don't waste your time brainstorming daily for a blog post!
Beat the feeling of being overwhelmed when it comes to planning your blogging strategy!

For a limited time, get access to our Your Next 20 Blog Posts Playbook for just $ 4.99 and gain take control over your blogging strategy without all the stress!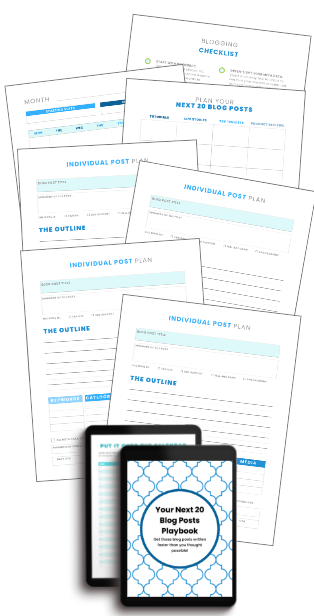 Start your blogging habit today!
Even if you aren't a confident writer, you just need a workable plan that uses time like a pro.
You're clueless about writing blog posts.
This checklist has it all! From keywords to revenue, we cover everything so you don't miss a thing.
You've got ideas everywhere.
You need to write down you ideas and also organize them by type of reach. We help you! You got this!
You need to map out your post but how?
We help you gather all the things so the post basically writes itself!

Here's what you get:
A 24-page printable PDF.
You'll receive our blogging checklist, a monthly stats tracker, a guide for creating your next 20 posts including a post creation checklist and 20 individual post planning sheets which will allow you to track the title, summary, goal, outline, keywords, categories, links, media and more for each post.

Blogging is easier when you have a plan. I promise!
A blogging strategy can be your reality, even if you're feeling overwhelmed!
This resource is designed for personal use. Sharing this resource with others would be a copyright violation.
Because this is a digital product, refunds are not possible.