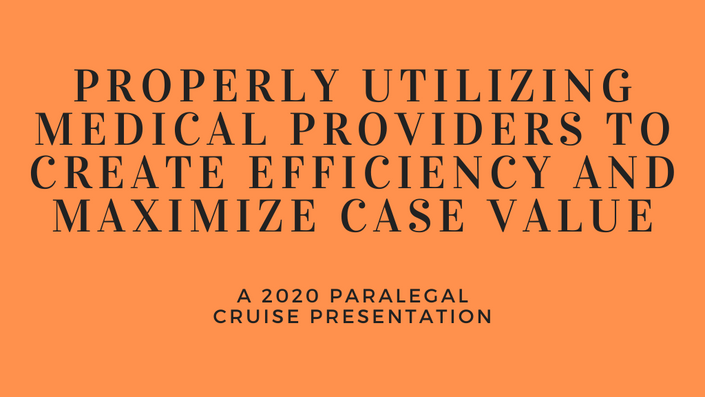 Properly Utilizing Medical Providers to Create Efficiency and Maximize Case Value
1.0 CLE (Including .5 Ethics)
Properly utilizing medical providers to create efficiency for Legal Professionals and maximize case value
A candid conversation with a Board Certified Pain Management specialist with over a decade of experience in the care of patients who have suffered work related injuries, MVA, or traumatic injury. Dr. Angel Rigueras has evaluated and treated over 10,000 med-legal patients and developed the compliment of skills required for this unique patient population. In addition to his interventional and surgical accomplishments, he has honed his skills in providing succinct and relevant medical documentation and offering testimony as both a treating provider and expert witness. In this discussion, he will share his knowledge on multidisciplinary medical treatment for patients within the personal injury framework including:
Traumatic neuromuscular injuries common in most personal injury cases
The practice of "medical prudent urgency" in personal injury
The use and purpose of a multidisciplinary medical treatment model
How diagnostic work-up and triaging occurs for personal injury patients
Relevant medical patient-education/information typically provided to personal injury patients
Angel J. Rigueras, D.O. is Fellowship trained in interventional pain medicine and specializes in diagnosing and treating pain related to a variety of injuries and medical conditions. He is Board Certified in the field of physical medicine and rehabilitation. Dr. Rigueras utilizes a multi-disciplined and multi-faceted approach to both diagnosing and treating the various sources of pain with state-of-the-art non-surgical techniques.
Dr. Rigueras is a graduate from the Nova Southeastern University and received his doctorate from Nova Southeastern University College of Osteopathic Medicine. He completed his residency in Physical Medicine & Rehabilitation at Michigan State University and continued on to completed his fellowship training in Interventional Pain Medicine at Michigan State University.
Program Includes: Video & PowerPoint
Important Information
Please do not sign-up for this course if you have previously purchased the 2020 Paralegal Cruise package as this will be a duplicate. You can learn about the 2020 Paralegal Cruise Package here.
Please visit this link for answers to Frequently Asked Questions about our CLE: http://miamifrp.com/cle-faq/
This program features optional computer-generated Closed Captioning in English and transcripts for your convenience.
Continuing Legal Education Credit (CLE)
Program Name: Properly utilizing medical providers to create efficiency for legal professionals and maximize case value
NALA CP or ACP: As part of the 2020 Paralegals Cruise Event sponsored by Perfectly Paralegal Consulting, this individual program is approved for 1 CLE credit including 0.5 ethics CLE credit and 0 non-substantive credit.
Florida Bar FRP: As approved by NALA, this seminar meets the requirements under Rule 20-6.1 of the Rules Regulating The Florida Bar for 1 general hours of continuing legal education credit (including 0.5 ethics hours and 0 technology hours) required to maintain the FRP credential.
NFPA RP® or CRP™: NFPA accepts CLE hours which bears the accreditation of NALA on the certificate of attendance.
North Carolina: This program has been approved by The North Carolina State Bar, Board of Paralegal Certification, for 1 CLE credit including 0.5 ethics CLE credit and 1 general CLE credit. This approval expires on April 30, 2023.
South Carolina: This program has been approved for South Carolina Certified Paralegals for 1 CLE credit including 0.5 ethics CLE credit and 1 general CLE credit.


Other Reporting Entities: If you aren't sure and you want to double check, please e-mail [email protected] before you purchase the program and we can help you determine whether you can use these credits or not.
Thank you to the sponsors of the 2020 Paralegal Cruise