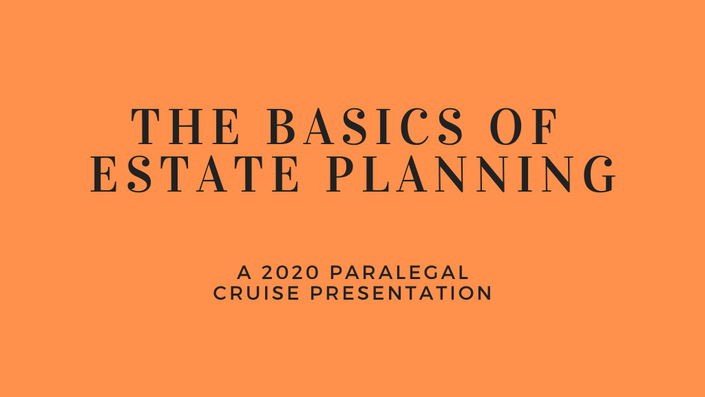 The Basics of Estate Planning
1.0 CLE
The Basics of Estate Planning
The common misconception of estate planning is that you must be wealthy to have an estate. However, the truth is, if you own any assets, regardless of their value, you have an estate and need to plan, or your resident state will do it for you. In this presentation, we will discuss the importance of a basic estate plan in order to avoid your property ending up in the hands of the government and to ensure that your wishes are carried out during your lifetime and beyond.
Michelle L. Taylor, ACP, FRP has worked in the legal field for over 16 years and is currently a freelance virtual paralegal located in Naples, Florida. Michelle graduated Cum Laude from International College with a Bachelor of Science Degree in Legal Studies. She became a Florida Registered Paralegal in 2010 and a NALA Advanced Certified Paralegal in Estate Planning in 2016. She is highly skilled in all aspects of estate and trust administration including the preparation and filing of probate documents, trust accountings, estate tax returns, gift tax returns, foundation returns, and fiduciary income tax returns. She also assists with the preparation of basic estate planning documents and managing irrevocable life insurance trusts.
Program Includes: Video, PowerPoint & Handouts
Important Information
Please do not sign-up for this course if you have previously purchased the 2020 Paralegal Cruise package as this will be a duplicate. You can learn about the 2020 Paralegal Cruise Package here.
Please visit this link for answers to Frequently Asked Questions about our CLE: http://miamifrp.com/cle-faq/
This program features optional computer-generated Closed Captioning in English and transcripts for your convenience.
Continuing Legal Education Credit (CLE)
Program Name: Basics of Estate Planning
NALA CP or ACP: As part of the 2020 Paralegals Cruise Event sponsored by Perfectly Paralegal Consulting, this individual program is approved for 1 CLE credit including 0 ethics CLE credit and 0 non-substantive credit.
Florida Bar FRP: As approved by NALA, this seminar meets the requirements under Rule 20-6.1 of the Rules Regulating The Florida Bar for 1 general hours of continuing legal education credit (including 0 ethics hours and 0 technology hours) required to maintain the FRP credential.
NFPA RP® or CRP™: NFPA accepts CLE hours which bears the accreditation of NALA on the certificate of attendance.
North Carolina: This program has been approved by The North Carolina State Bar, Board of Paralegal Certification, for 1 CLE credit including 0 ethics CLE credit and 1 general CLE credit. This approval expires on April 30, 2023.
South Carolina: This program has been approved for South Carolina Certified Paralegals for 1 CLE credit including 0 ethics CLE credit and 1 general CLE credit.


Other Reporting Entities: If you aren't sure and you want to double check, please e-mail [email protected] before you purchase the program and we can help you determine whether you can use these credits or not.
Thank you to the sponsors of the 2020 Paralegal Cruise