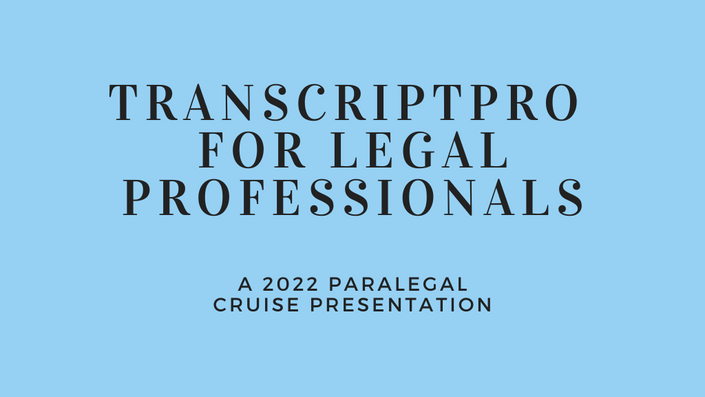 TranscriptPro for Legal Professionals
1.0 CLE
TranscriptPro™ PC is a productivity software package that allows an attorney and his/her staff completely manage, review and work with deposition transcripts in several useful ways.
This comprehensive seminar will walk you through TranscriptPro and provide you with a working knowledge of this system which will allow you to play a stronger and more integral role in these proceedings, rather than forcing your trial team to rely on outside vendors. Some of the topics in this instructional seminar include:
Organize. You can set up a case(s) and add transcripts; both video and non-video.
Search. You can use our advanced search functionality to find words or phrases. Search the open transcript or globally search all transcripts in a case and results are hyper-linked for easy preview and saved in our search tab. You may export these search results to a CSV file for further review and/or import into other case management software.
Video Editing. You can now easily edit video depositions. Create individual clips for use in ExhibitView PC, Mac, iPad or PowerPoint. Additionally, export a series of clip "segments" for a complete edited video in any of our supported output formats.
ISSUES. Easily set up issues with colors and shortcut keys. Use them as "bookmarks" to identify important testimony. You can then export a list of all your Bookmarks/Issues for further review.
COPY & PASTE. You can select any Q&A in a open transcript (video or non-video) and right click to copy that text and paste it outside of TranscriptPro. Examples might be copying to a Word document for a deposition outline; slides for an opening statement or mediation, etc.
Speaker:
William Roach, Partner & VP of Customer Relations
Bill Roach is the visionary who took ExhibitView from concept to product. Bill knew firsthand the challenges lawyers faced when using other presentation software packages. Bill was the "expensive media consultant" lawyers hired to operate complicated presentation software in the courtroom.
One heart-wrenching wrongful death case ignited the spark that led Roach to create a presentation software any lawyer could use to win more cases. As VP of Customer Relations, Roach uses his creativity and innovation to make ExhibitView the trial presentation software that lawyers prefer.
Bill is consumed with ExhibitView and his customers 110%. Bill truly enjoys talking with customers all over the country and all over the World. Working on new products, training, and customer support gives Bill the honor of being the face of ExhibitView and one he relishes.
"My goal is to build better products and offer better service and support than any other company. Our current clients can attest to this. We encourage dialogue with our customers. This is how we learn what our customers need, and what they want. We truly appreciate our customers." – Bill Roach
This program features computer generated closed captioning.
Program Includes: Video & PowerPoint
Important Information
Please do not sign-up for this course if you have previously purchased the 2022 Paralegal Cruise package as this will be a duplicate. You can view the 2022 Paralegal Cruise package
here
. You can view prior years cruise packages
here
.
Please visit this link for answers to Frequently Asked Questions about our CLE: www.perfectlyparalegal.com/p/clefaq
Sponsor
This course has been provided by The TASA Group. Founded in 1956, The TASA Group is the leading provider of a variety of quality, independent, testifying and consulting experts nationwide, giving clients access to seasoned professionals in 11,000+ technical and medical specialties. The TASA Group is dedicated to providing the best experts and consultants available to meet clients' diverse needs.
You can check out their website at: https://www.tasanet.com/
Continuing Legal Education Credit (CLE)
NALA CP or ACP: This course has been approved as part of the 2022 Paralegals Navigating Perilous Waters Cruise Event, sponsored by Perfectly Paralegal Consulting, Inc., and is approved for 1 CLE credit.
Florida Bar FRP: As approved by NALA, this seminar meets the requirements under Rule 20-6.1 of the Rules Regulating The Florida Bar for continuing legal education credit required to maintain the FRP credential.
NFPA RP® or CRP™: NFPA automatically accepts substantive CLE hours which bears the accreditation of NALA on the certificate of attendance.
State Bar of Texas – Paralegal Division – The Division will accept substantive law CLE approved by the National Association of Legal Assistants for credit towards the Paralegal Division mandatory membership renewal CLE requirement.
NALS: This course has been approved by NALS for 1.0 General CLE.