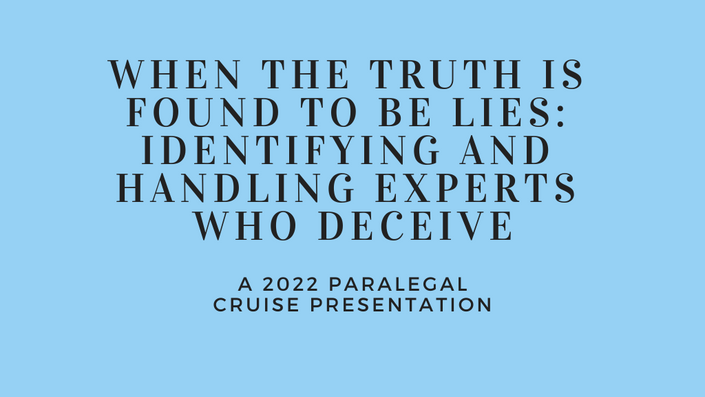 When the Truth is found to be Lies: Identifying and handling experts who deceive
2.0 CLE
This program features computer generated closed captioning.
Program Includes: Video & PowerPoint
Important Information
Please do not sign-up for this course if you have previously purchased the 2022 Paralegal Cruise package as this will be a duplicate. You can view the 2022 Paralegal Cruise package here. You can view prior years cruise packages here.
Please visit this link for answers to Frequently Asked Questions about our CLE: www.perfectlyparalegal.com/p/clefaq
Sponsor
This course has been provided by The TASA Group. Founded in 1956, The TASA Group is the leading provider of a variety of quality, independent, testifying and consulting experts nationwide, giving clients access to seasoned professionals in 11,000+ technical and medical specialties. The TASA Group is dedicated to providing the best experts and consultants available to meet clients' diverse needs.
You can check out their website at: https://www.tasanet.com/
Continuing Legal Education Credit (CLE)
NALA CP or ACP: This course has been approved as part of the 2022 Paralegals Navigating Perilous Waters Cruise Event, sponsored by Perfectly Paralegal Consulting, Inc., and is approved for 2 CLE credit (including 2 Ethics CLE credit).
Florida Bar FRP: As approved by NALA, this seminar meets the requirements under Rule 20-6.1 of the Rules Regulating The Florida Bar for continuing legal education credit required to maintain the FRP credential.
NFPA RP® or CRP™: NFPA automatically accepts substantive CLE hours which bears the accreditation of NALA on the certificate of attendance.
State Bar of Texas – Paralegal Division – The Division will accept substantive law CLE approved by the National Association of Legal Assistants for credit towards the Paralegal Division mandatory membership renewal CLE requirement.
NALS: This course has been approved by NALS for 2.0 Ethics CLE.