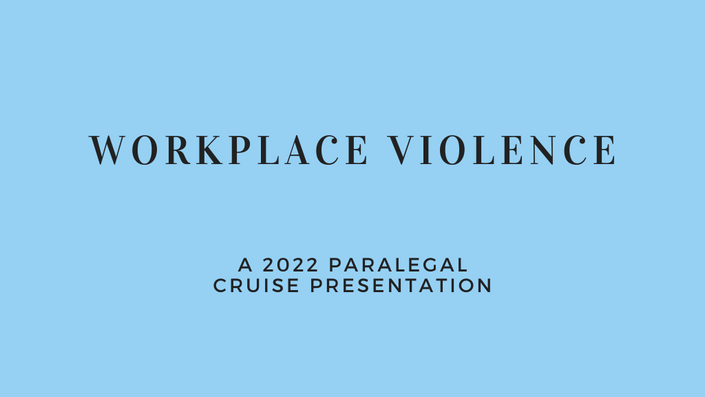 Workplace Violence
1.0 CLE
Security consultant Larry Fennelly and certified protection professional Marianna Perry present Workplace Violence, for all legal professionals.
During this presentation, Larry and Marianna will discuss:
Definitions
Recordkeeping
Trigger of Events
Case Studies
Resources
Conclusion
About The Presenters:
Larry Fennelly is an authority on security planning and analysis, the study of how environmental factors contribute to criminal victimization on the use of physical hardware, alarms, lighting, site design and management practices. Larry is also a litigation consultant and an expert on security policies and procedures and guard management. Mr. Fennelly was a Sergeant at Harvard College, employed by the Harvard University Polices until April 25, 1996. His duties included Crime Prevention and Training. Trained as a Crime Prevention Specialist and serving in this capacity for 21 years at Harvard, he was also the department's Training Officer and Assistant Court Officer. In 1982, Mr. Fennelly was appointed to President Reagan's Task Force on Crime Prevention and Violent Crime, which explored what the private sector was doing to prevent crime and what was being done for employees who were victims of crime.

Marianna Perry is a Certified Protection Professional through ASIS International and has 35+ years of progressive experience in law enforcement, physical security, safety and loss control. Marianna received her B.A. degree from Bellarmine University and her Master's Degree from Eastern Kentucky University. She is a safety and security consultant and is a frequent presenter at the annual ASIS International Seminar. Marianna is a former trooper and detective with the Kentucky State Police and was previously the Director of the National Crime Prevention Institute at the University of Louisville. She is a member of the ASIS International School Safety and Security Council.
This program features computer generated closed captioning.
Program Includes: Video & PowerPoint
Important Information
Please do not sign-up for this course if you have previously purchased the 2022 Paralegal Cruise package as this will be a duplicate. You can view the 2022 Paralegal Cruise package
here
. You can view prior years cruise packages
here
.Please visit this link for answers to Frequently Asked Questions about our CLE:
www.perfectlyparalegal.com/p/clefaq
Sponsor
This course has been provided by The TASA Group. Founded in 1956, The TASA Group is the leading provider of a variety of quality, independent, testifying and consulting experts nationwide, giving clients access to seasoned professionals in 11,000+ technical and medical specialties. The TASA Group is dedicated to providing the best experts and consultants available to meet clients' diverse needs.
You can check out their website at: https://www.tasanet.com/
Continuing Legal Education Credit (CLE)
NALA CP or ACP: This course has been approved as part of the 2022 Paralegals Navigating Perilous Waters Cruise Event, sponsored by Perfectly Paralegal Consulting, Inc., and is approved for 1 CLE credit.
Florida Bar FRP: As approved by NALA, this seminar meets the requirements under Rule 20-6.1 of the Rules Regulating The Florida Bar for continuing legal education credit required to maintain the FRP credential.
NFPA RP® or CRP™: NFPA automatically accepts substantive CLE hours which bears the accreditation of NALA on the certificate of attendance.
State Bar of Texas – Paralegal Division – The Division will accept substantive law CLE approved by the National Association of Legal Assistants for credit towards the Paralegal Division mandatory membership renewal CLE requirement.
NALS: This course has been approved by NALS for 1.0 General CLE.