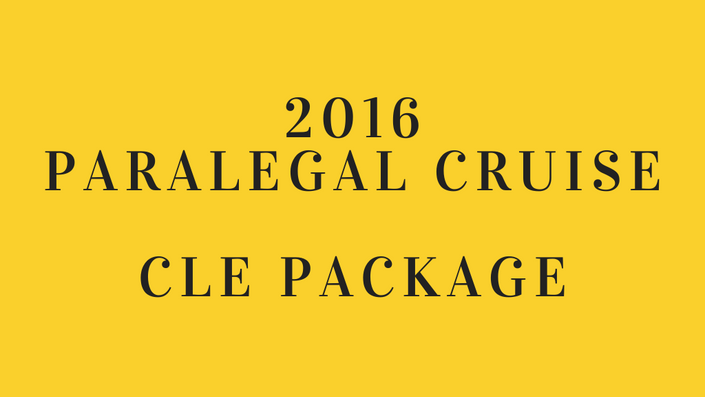 2016 Paralegal Cruise
27.0 CLE (Including 4 Ethics)
As paralegals, we know it's important to never stop learning and keep our skills fresh and relevant. Add to that, the requirement to report continuing legal education credits to a variety of different entities. While many firms pay for the continuing education requirements for attorneys, many of those same firms do not cover those expenses for their paralegals even though they benefit from the education and certification of their paralegals. Even when firms do pay, it can be time consuming to collect all of the necessary credits, especially if you've waited until the last minute.
The annual Paralegals Navigating Perilous Waters cruise event is a fun and convenient way for paralegals to obtain a large chunk of their CLE credits at a really reasonable cost. Of course, there is a lot more to the cruise than CLE, so make sure you check out the next cruise and join us in person!
If you missed the 2016 Cruise but need CLE credits now, the great news is that you can still sign up today and receive instant access to recordings of the same CLE seminars that our 2016 attendees received.
This program includes audio recordings of live events, there may be background noise or other interruptions typical of live events.
Please visit this link for answers to Frequently Asked Questions about our CLE:
www.perfectlyparalegal.com/p/clefaq
Legal Education
eDiscovery Basics – The Current eDiscovery Landscape and Best Practices for the EDRM Workflow
Key Terminology

FRCP – including recent changes

Custodians – Identification, Types

Collection – Best practices

Processing – Best practices, pitfalls to avoid

Load Files – what they are; what you need to know and how to manage each type
Tools to Become Your Firm's eDiscovery Superstar
Know the Rules
Meet & Confer Best Practices
Creating and Managing your Firm's eDiscovery Workflow
Creating/Managing eDiscovery Teams
Helping your clients be eDiscovery savvy
Ethics for Freelancers
Ethics are ethics, right? The ABA stood on the mountaintop and gave unto us the Model Rules of Professional Conduct that were passed down to us through our instructors and supervising attorneys. Those rules were written for paralegals working in traditional offices. Now that paralegals have the option to work independently, there are new rules – some unofficial – that govern the way we do our jobs. Join us as we examine evolving ethics definitions and guidelines for 21st century paralegals.
The Inadvertent Plagiarizer
Oscar Wilde said that "imitation is the sincerest form of flattery that mediocrity can pay to greatness." Pretty words that belie damage done when someone 'borrows' content from another and fails to provide credit to the original creator or, even worse, passes it off as original work. At what point does inadvertent plagiarism become intentional or, at the furthest end of the spectrum, copyright infringement? What can we do to avoid plagiarizing? When does plagiarism cross the line into copyright infringement? Join our seminar to learn more about preventing plagiarism, identifying plagiarized / infringed content, protecting your intellectual property and responding to accusations of plagiarism.
Digital Transcript Tools, Exhibit View and TranscriptPro
Best Practices for understanding file types and how to create summaries, reports, deposition outlines, settlement letters using any format transcript, the easy way!
The Basics of Estate Planning
The common misconception of estate planning is that you must be wealthy to have an estate. However, the truth is, if you own any assets, regardless of their value, you have an estate and need to plan, or your resident state will do it for you. In this presentation, we will discuss the importance of a basic estate plan in order to avoid having your property end up in the hands of the government and to ensure that your wishes are carried out during your lifetime and beyond.
Fair Debt Collections Act
Learn about the Fair Debt Collection Practices Act and the Service Members Civil Relief Act. You'll learn the parties involved, debt collection practices, consumer protection, responsibilities, do's and don'ts, liability, damages and recent cases.
Fair Labor Standards Act
Learn about the Fair Labor Standards Act, what it is and what it covers. Learn about minimum wage, maximum hours, hourly vs. salary, exempt vs. non-exempt, exceptions to overtime pay, penalties, damages and more.
Long Term Care Planning
For the baby boomers, estate planning turns into long-term care planning. Learn how to discuss with clients the different ways to plan for long-term care while still achieving their estate planning goals. We will be discussing different housing options, ways to pay for help with their activities of daily living, and dealing with different family dynamics.
Smooth Sailings: Paralegal Support for Commercial Real Estate Transactions
Commercial real estate transactions are often significantly larger in size, scope, ego, and emotion than residential real estate transactions. The larger the transaction, the larger the potential claim if mistakes are made. Because title insurance is the only insurance that covers the past and not the future, much of a paralegal's time is spent supporting the transactional attorney in clearing title and documentary issues. This program will survey, through actual case studies, some of the more bizarre, complicated, interesting, and entertaining title issues, as well as how to address and cure those matters to ensure a smooth closing.
How to Create a Paperless Law Office
This course will cover the considerations involved in doing a conversion of paper files to digital. Teach you how to create a system to organize and name files so they can be found later and how to create a paperless process to stop generating new paper. We will also cover data security and how to improve efficiency and save your firm and clients money.
How to Build a Wall Around Your Clients with Relationship Marketing
This course will show you how to compete with other law firms for the same clients, how to manage referrals and keep getting them. We will also show you how to systematize and create a streamlined process to easily manage relationship marketing.
Career & Lifestyle Management
7 Habits of Highly Effective Paralegals and Legal Assistants
Critical Interviewing & Job Search Skills for Paralegals
The Power of Networking
Tools for your Toolbox, Resume Writing & More – Are You Ready for Your Next Best Career?
Continuing Legal Education Credit (CLE)
NALA: This seminar is approved by the Certifying Board of the National Association of Legal Assistants (NALA) for 27 CLE credit including 14.5 substantive, 8.5 non-substantive and 4.0 ethics continuing legal education credit required to maintain the CP or CLA credential.
FRP: As approved by NALA, this seminar meets the requirements under Rule 20-6.1 of the Rules Regulating The Florida Bar for 27 hours of continuing legal education credit required to maintain the FRP credential.
Please note: Topics such as law office management, computer training, and other law-related topics are considered by NALA to be under the non-substantive category, which is limited to 10 hours per five-year certification period.
The CLE Credits from this program are pre-approved by NALA and can be used for your CLE requirements with any other associations which accept credits that hold NALA's approval. A certificate of completion is awarded upon completion of all classes within this program. It is the students responsibility to ensure NALA approved credits will be accepted. If you aren't sure, please e-mail [email protected] for assistance.
NFPA accepts substantive CLE hours bearing NALA accreditation.