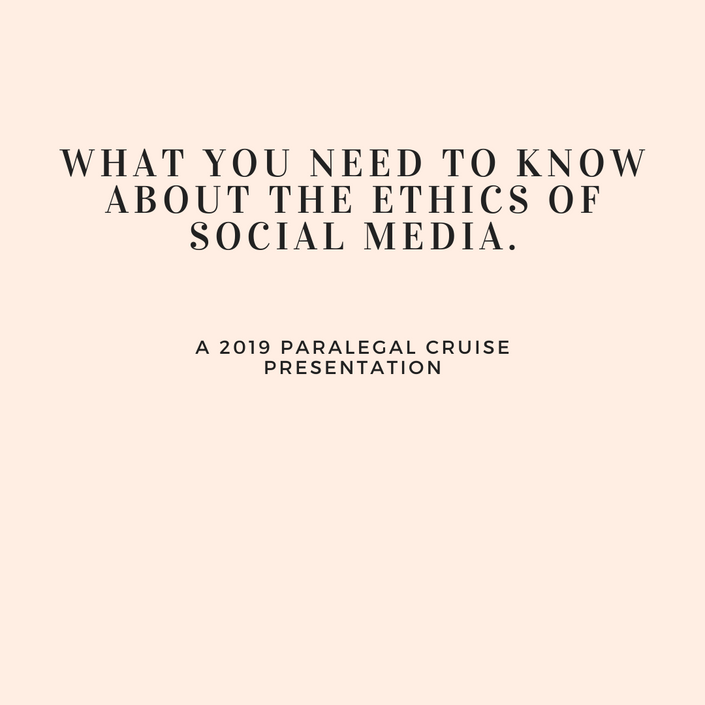 Are you experienced? Or dazed and confused? What you need to know about the ethics of Social Media
1.0 CLE (Including 1.0 Ethics)
Course Description
Social media plays a role in virtually every aspect of a paralegal's practice: litigation, employment law, criminal, estate planning, and corporate law. Knowing the pitfall of using, or not using, social media can result in serious ethical violations, for you and your lawyers. Learn what you can and cannot ethically do, and the impact it may have on you. You will laugh. You will cry. And you will be amazed at what legal professionals do on social media.

Meet Your Speaker
DANIEL J. BURNICK, founded the Law Office of Daniel J. Burnick in January, 2017. Previously, he was a shareholder at one of the largest firms in Alabama 33 years. Mr. Burnick represents both plaintiff's and defendant's in a general litigation practice in state and federal court. Mr. Burnick consults with and represents clients in matters ranging from complex workforce issues to employee management, and he has successfully litigated trials in both state and federal courts, including pregnancy discrimination, Title VII claims, FLSA claims, and FMLA claims. He also represents clients concerning the enforceability of non-competition agreements, retaliatory discharge, violation of trademarks and service marks, and the misappropriation of trade secrets. Mr. Burnick is the publisher of the alabamaemploymentlawblog.com on his website, DanielBurnick.com, and he is a frequent lecturer at professional education programs. He is a member of the Birmingham Bar Association, the Alabama State Bar, and the American Bar Association. Mr. Burnick received his B.A. from the College of William and Mary and his J.D. from Cumberland School of Law in Birmingham.
Course Information
This course is a recording of a live event which took place as part of the 2019 Paralegal Cruise.
This program consists of a video recording and a PDF version of the Power Point presentation. The recording may include some background noise or other interruptions typical of live events.
Please do not purchase this course if you have previously purchased the 2019 Paralegal Cruise package as this will be a duplicate. You can learn about the 2019 Paralegal Cruise Package here.
Please visit this link for answers to Frequently Asked Questions about our CLE: https://www.perfectlyparalegal.com/p/clefaq
Continuing Legal Education Credit (CLE)
NALA: This seminar is pre-approved by the Certifying Board of the National Association of Legal Assistants (NALA).
FRP: As approved by NALA, this seminar meets the requirements under Rule 20-6.1 of the Rules Regulating The Florida Bar for continuing legal education credit required to maintain the FRP credential.
NALS: This seminar is pre-approved by NALS, Inc. for continuing legal education credit required to maintain your NALS credential.
NFPA accepts substantive CLE hours bearing NALA accreditation.
South Carolina: This program has been approved by the South Carolina Bar for South Carolina Certified Paralegals.
North Carolina: This program has been approved by the North Carolina State Bar Board of Paralegal Certification. The approval for this program expires on 3/1/2022.
State Bar of Texas – Paralegal Division – The Division accepts substantive law CLE approved by NALA.
CLE Credits from this program are pre-approved by NALA (and other associations as identified above) and can be used for your CLE requirements with any other associations which accept credits that hold NALA's approval. A certificate of completion is awarded upon completion of this program. It is the students responsibility to ensure NALA approved credits will be accepted by the entity they report credits to before signing up.
If you aren't sure, please e-mail [email protected] for assistance.