Time Entry Billing Guide
50+ Pages with 600+ Sample Time Entries

Time Entry Billing Guide
The Time Entry Billing Guide is a word document containing over 50 pages with over 600 sample time entries conveniently organized by category.


The fact that it's a word document is important because it means you can easily search by keyword and simply copy/paste the desired time entry to then modify it to fit your needs - no need to re-type the entries you want to utilize!
The Master Time Entry List was created from a variety of sources over my 25 year career as an insurance defense paralegal during which time I consistently met and exceeded my billable hour requirements AND collection goals.


The Time Entry Billing Guide is only $35 - it'll easily pay for itself in a single time entry! PLUS you get 1.0 CLE (info below).
This document is a printable resource only and does not include a class. If you need help with billing strategies, tips, techniques, etc., we strongly suggest you also take our Billing Strategies class. These are two separate products and most people get both.


This document is for your personal/individual use only, the purchase of this document does not give you the right to share or re-distribute this document in any way.


Because this is a digital product and access is immediate, refunds cannot be extended. Have questions? Please ask before signing up.

Time Entry Billing Guide categories include:

Paralegal Functions (Generally)
Explanation of Adequate Descriptions
Examples of Adequate Description (Acceptable vs. Unacceptable)
Telephone Conferences
Correspondence
Preparation of Pleadings
Legal Research
Discovery
Court Appearances
Initial Claim or File Intake and Review
Preparing Binders (Medical Records, Hearings, etc)
Motions
Depositions
Discovery
Research (Background Checks, etc)
Subpoenas and Subpoenas Duces Tecum
Request for Copies and Compliance
Additional info needed to comply
Update Records
HIPAA Motion and Order
Authorization
Records (Receiving, Reviewing, Summarizing, etc)
Report Letters re: Medical Records Summary
Good Faith Letter
Independent Medical Examination
Damage Calculations
Summarize into Case Analysis
Witness and Exhibit Lists
Trial Preparation
Settlement Documents / Proposal for Settlement
Preparing Estate Tax Returns

Feedback from fellow paralegals...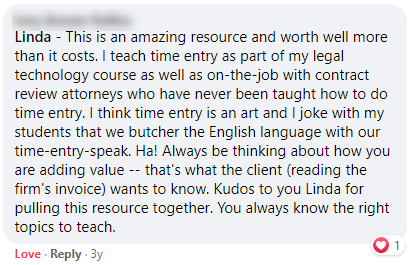 "This is an amazing resource and well worth more than it costs"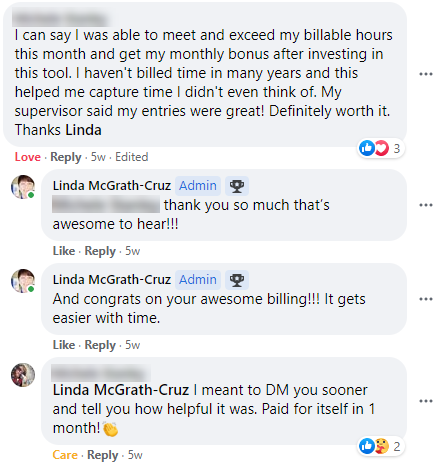 "I was able to meet and exceed my billable hours this month and get my monthly bonus after investing in this tool"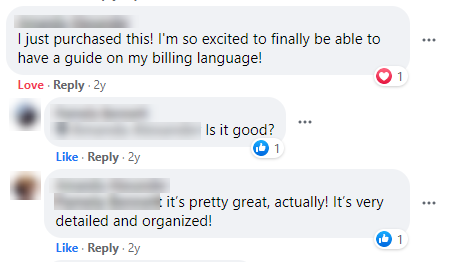 "I'm so excited to finally be able to have a guide on my billing language!"


"It's pretty great, actually! It's detailed and organized"

"A lifesaver - billing has always been a challenge, this document helps tremendously"

"This was a life saver for me when I first got started, I still use it regularly"


"This is so freaking awesome!!!"

"Holy crap its amazeballs! So many good entries!! This helps me tremendously!"

"Has helped me tremendously!"

"The PP resource is very helpful"

"I have it and love it!!!"
Sample Entries
Analyze Complaint and allegations contained therein and initial correspondence in claim file from adjuster as to plaintiff, and initiate Case Analysis as to treating physicians; hospitalization; employment history and collateral sources.
Analyze and summarize medical records contained in Claim File from _____, identifying dates of treatment, services rendered, assessments of Plaintiff and medications prescribed, and incorporate such summary into the Medical Chronology portion of the Case Analysis to assist in the defense of this claim.
Analyze medical records received pursuant to Defendant's Subpoena Duces Tecum Without Deposition directed to: (NAMES), to catalog and sort all billing records; patient forms; history and injury questionnaires; progress notes; diagnostic and laboratory tests; and prescription records in anticipation of preparing Medical Records Notebooks, to be used for attorney reference during the upcoming mediation and depositions.
Review/analyze for accuracy and content: pleading to the Court requesting Plaintiff to comply with Defendant's (DISCOVERY), propounded upon Plaintiff on (DATE) and proposed Order on Defendant's pleading to the Court requesting Plaintiff to comply with Defendant's (DISCOVERY), propounded upon Plaintiff on (DATE).
Review and analyze plaintiff's response to defendant's request for production of documents, and identify any medical providers, employers and insurance companies not previously listed, in further defense of claim.
Prepare detailed and comprehensive response to Plaintiff's Interrogatories to Defendant dated (DATE), to include (ITEMS REQUESTED IN ROGGS), and our objections to those requests which invade the attorney/client and/or work product privilege, vague and overburdensome, and providing responses that are relevant, and reasonably calculated to lead to the discovery of admissible evidence.
Investigation regarding Plaintiff's medical providers, insurance providers, and employers in anticipation of preparing Defendant's Subpoenas Duces Tecum Without Deposition for records of the Plaintiff.
Evaluate present posture of subject litigation with a specific focus on status of damages for assessment and follow-up regarding the development of our discovery strategy as it pertains to our mitigation of damages claimed by the Plaintiff.
Analyze Notice of Production from Non-Party and proposed Subpoenas Duces Tecum Without Deposition filed by (NAME) issued to the following providers, to identify all providers not previously disclosed, in anticipation of preparing Request for Production of Documents for records received pursuant to said Subpoenas.
Prepare correspondence to Plaintiff's counsel regarding pleading to the Court for HIPAA Qualified Protective Order and Order to Disclose Protected Health Information, as to Plaintiff, to protect all parties, their attorneys and experts from any potential HIPAA violations for disclosure to issues related to the pending litigation.
Review, analyze and summarize Plaintiff's medical records provided by (NAME) pursuant to Defendant's Subpoena Duces Tecum Without Deposition, to identify discharge notes and follow-up recommendations, and to incorporate such summary of treatments into Defendant's Medical Chronology of Plaintiff for attorney reference during continued defense of this claim.
Summarize contents of claim file for purposes of inputting relevant information into Case Analysis/Medical Chronology, developing a substantive outline with specific emphasis on identifying witnesses, insurance companies, medical and employment providers, in preparation for preparing non-party production request.
Conference with _____ with regard to request for conflict check, request for curriculum vitae and fee table in assistance of counsel in vetting for consideration of medical records review and/or compulsory medical evaluation of Plaintiff, in compliance with Court's Order setting trial and disclosure deadlines therein.
Review, analyze and summarize Plaintiff's Answers/Responses to (NAME OF DISCOVERY), to identify Plaintiff's recollection of the subject incident, any witnesses Plaintiff recalled at the subject incident; details of the Plaintiff's attire on the day of the subject incident, and incorporate such summary into the Case Analysis for attorney reference during the defense of this claim.
Analyze all available medical records and documents produced to date, pursuant to Subpoena Duces Tecum Without Deposition to non-parties, to identify witnesses to testify at trial, in anticipation of preparing Defendant's Witness List.
Analyze all pleadings generated by the parties, deposition transcripts, summaries, available interrogatory responses of plaintiff, all discovery responses of plaintiff, and all expert witness reports, in identifying and itemizing liability witnesses and expert witnesses who will testify at trial, and in identifying and itemizing exhibits to be produced at trial.
Analyze file for information re subject accident to insure proper party names in preparation for drafting of defendants Proposal for Settlement to plaintiff, in the amount of $_____________ as to defendant, _________ only.
Review account statements and sales of stock; determine issues with respect to alternate valuation and date of death valuation. Review real estate sales contract and closing statements.
Continuing Legal Education (CLE) Credit:
This program meets the requirements of the NALA Certifying Board for continuing legal education credit required to maintain the CP (Certified Paralegal) credential. This program is pre-approved by NALA for 1.0 hours of substantive CLE.
This CLE credit may be used by any entity that accepts NALA credits including Florida Bar for FRPs, NFPA RPs or CRPs, and the Paralegal Division of the State Bar of Texas.
If you aren't sure if this credit can be used or not, please ask before you sign up. E-mail 

[email protected]

.
Check your inbox to confirm your subscription