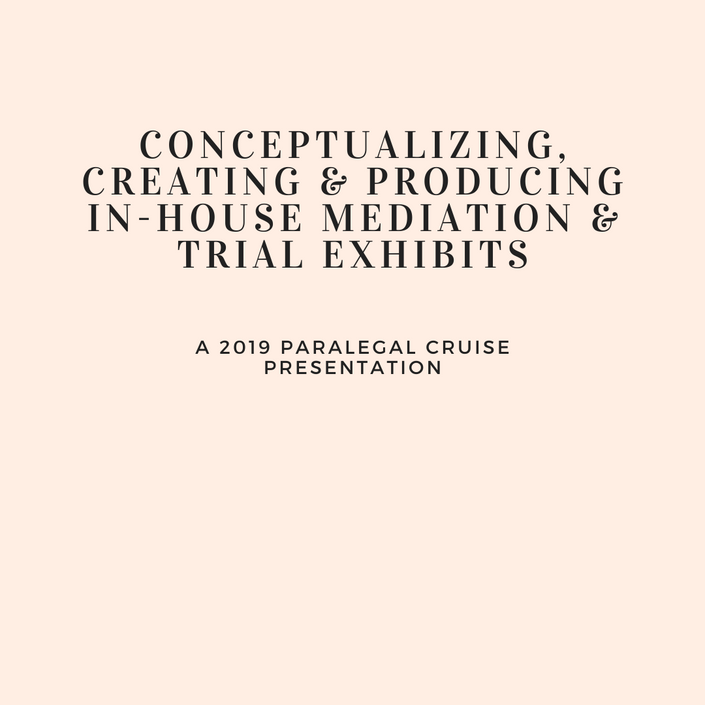 Conceptualizing, Creating & Producing In-House Mediation & Trial Exhibits
1.5 CLE
Course Description
It has been said, "A picture is worth a thousand words." The notion is that a complex idea can be conveyed with just a single image or that it is possible to absorb large amounts of data quickly with one picture. In this seminar, we will focus on how to synthesize pertinent, case-related data and create cost-effective, eye-catching demonstrative exhibits for use at hearings, mediations and/or trials utilizing the computer software most paralegals already have on their computers. Both plaintiff and defense paralegals will benefit from this skill-set by keeping the design work "in house" and eliminating design costs for their clients.
Meet Your Speaker
Paul Pelton, FRP, is a Senior Litigation Paralegal with The Maher Law Firm in Winter Park, FL and has over 30 years of experience in all phases of civil trial work. With an educational background in medical science and paralegal studies, Mr. Pelton concentrates his practice in high-exposure cases involving medical malpractice, nursing home resident's rights claims, product liability matters and complex BI claims. Paul has handled casework for plaintiffs and defendants in State and Federal courts throughout Florida from inception through post-trial matters, and in arbitration and mediation proceedings. He is a published author and a CLE provider to national audiences on paralegal practice. Mr. Pelton serves the citizens of Florida by appointment of the Supreme Court of Florida to the Standing Committee on the Unlicensed Practice of Law for The Florida Bar through 2020. In addition, Mr. Pelton is a member of the Executive Council of the Orange County Bar Association Paralegal Section and currently serves the membership as the 2018–2019 Immediate Past President; he also serves as Chair of the Paralegal Mentorship Program with that organization, and has served as a member of the governing Board since 2015.

Course Information
This course is a recording of a live event which took place as part of the 2019 Paralegal Cruise.
This program consists of a video recording. The recording may include some background noise or other interruptions typical of live events.
Please do not purchase this course if you have previously purchased the 2019 Paralegal Cruise package as this will be a duplicate. You can learn about the 2019 Paralegal Cruise Package here.
Please visit this link for answers to Frequently Asked Questions about our CLE: https://www.perfectlyparalegal.com/p/clefaq
Continuing Legal Education Credit (CLE)
NALA: This seminar is pre-approved by the Certifying Board of the National Association of Legal Assistants (NALA).
FRP: As approved by NALA, this seminar meets the requirements under Rule 20-6.1 of the Rules Regulating The Florida Bar for continuing legal education credit required to maintain the FRP credential.
NALS: This seminar is pre-approved by NALS, Inc. for continuing legal education credit required to maintain your NALS credential.
NFPA accepts substantive CLE hours bearing NALA accreditation.
South Carolina: This program has been approved by the South Carolina Bar for South Carolina Certified Paralegals.
North Carolina: This program has been approved by the North Carolina State Bar Board of Paralegal Certification. The approval for this program expires on 3/1/2022.
State Bar of Texas – Paralegal Division – The Division accepts substantive law CLE approved by NALA.
CLE Credits from this program are pre-approved by NALA (and other associations as identified above) and can be used for your CLE requirements with any other associations which accept credits that hold NALA's approval. A certificate of completion is awarded upon completion of this program. It is the students responsibility to ensure NALA approved credits will be accepted by the entity they report credits to before signing up.
If you aren't sure, please e-mail [email protected] for assistance.