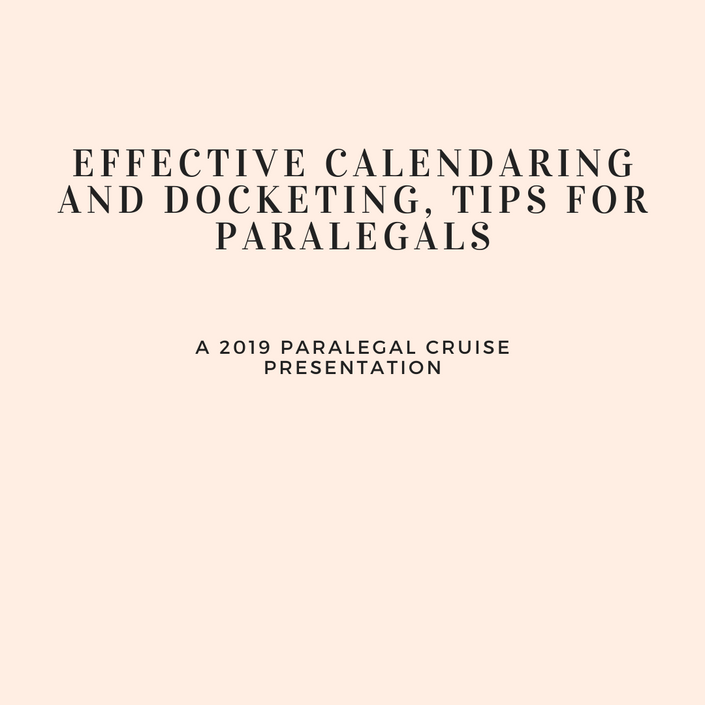 Effective Calendaring and Docketing, Tips for Paralegals
1.0 CLE
Course Description
In this course we will learn the relevant Federal Rules of Procedure which as well as gaining an understanding of how to control the important deadlines for the legal environment. We will discuss procedures to follow for case management and becoming a master of time and space!

Calendaring, Docketing, and File Tickling Systems and Methods

Difference between the Calendar and Docket
Federal Rules for Deadlines
Reminders – to Tickle or Not to Tickle, what's the question?
Reminders and drop dead deadlines

What happens when you don't?

Consequences of the missed deadline
Can you recover?

Maximizing Microsoft Outlook's Tools for the Legal Environment

Docketing software – yay or nay?
Maximizing the Outlook Calendar
Tracking your deadlines case by case
Meet Your Speaker
Candy Ryan, CRPTM is a litigation paralegal with Downs Stanford PC, Dallas, Texas assisting a named partner in insurance defense case preparation. Candy has been a part of the legal community since 1978 and has practiced in Washington, California and Texas. She is a graduate of the University of San Diego, ABA accredited Paralegal Studies Program (1988) and has specialized in litigation for more than 25 years. She also obtained her BA in Paralegal Studies in 2015.
Candy has been a member of the Dallas Area Paralegal Association (DAPA) since 2005; and is currently the 2019 Sustaining Membership Liaison coordinating with local and national vendors participating in numerous events with the members of DAPA such as the Sustaining Member Expo, Paralegal Day and the Holiday Luncheon. She has served as DAPA's Litigation Section Chair 2008-2018; Education Vice President 2009 and 2012-2017; President Elect 2010 and President 2011. She also served as National Federation of Paralegal Associations (NFPA) Association Coordinator in 2016. She served as Chair of the DAPA Bid Committee which successfully bid for the NFPA national convention to be held in Dallas in 2014.
She was certified by the NFPA as a Core Registered Paralegal with the designation of CRP in 2011, becoming one of the first 16 CRPs in the State of Texas and one of the initial 200 CRPs in the United States. She has assisted numerous paralegals in preparing for the certification exams by organizing and coordinating study groups for several years and will continue with that endeavor in 2019. In addition she was a member of the Dallas Association of Legal Assistants in the early 80s and past President of the San Luis Obispo County Paralegal Association (1995).
Candy has also served as a past member of the Court Reporting Institute of Dallas Paralegal Advisory Board and the Everest College Paralegal Program Advisory Board as well as ITT Technical Institute Paralegal Program Advisory Committee. She currently is serving on the Vista College Advisory Board.
She is also a frequent seminar speaker as faculty for the Institute of Paralegal Education (2009-2018). She has been a certified Divemaster since 1996 and has enjoyed working with dive groups in Texas, Florida, Mexico and Belize. She also enjoys kayaking and has assisted with various events including the Red Bull Flutag in 2017 and as sweeper and wrangler for kayaking group outings. She has been an instructor of Oriental Dance for several years and member of numerous performance troupes and is currently a member of Azul Raks of Dallas, recently performing at the State Fair of Texas.
Course Information
This course is a recording of a live event which took place as part of the 2019 Paralegal Cruise.
This program consists of a video recording. The recording may include some background noise or other interruptions typical of live events.
Please do not purchase this course if you have previously purchased the 2019 Paralegal Cruise package as this will be a duplicate. You can learn about the 2019 Paralegal Cruise Package here.
Please visit this link for answers to Frequently Asked Questions about our CLE: https://www.perfectlyparalegal.com/p/clefaq
Continuing Legal Education Credit (CLE)
NALA: This seminar is pre-approved by the Certifying Board of the National Association of Legal Assistants (NALA).
FRP: As approved by NALA, this seminar meets the requirements under Rule 20-6.1 of the Rules Regulating The Florida Bar for continuing legal education credit required to maintain the FRP credential.
NALS: This seminar is pre-approved by NALS, Inc. for continuing legal education credit required to maintain your NALS credential.
NFPA accepts substantive CLE hours bearing NALA accreditation.
South Carolina: This program has been approved by the South Carolina Bar for South Carolina Certified Paralegals.
North Carolina: This program has been approved by the North Carolina State Bar Board of Paralegal Certification. The approval for this program expires on 3/1/2022.
State Bar of Texas – Paralegal Division – The Division accepts substantive law CLE approved by NALA.
CLE Credits from this program are pre-approved by NALA (and other associations as identified above) and can be used for your CLE requirements with any other associations which accept credits that hold NALA's approval. A certificate of completion is awarded upon completion of this program. It is the students responsibility to ensure NALA approved credits will be accepted by the entity they report credits to before signing up.
If you aren't sure, please e-mail [email protected] for assistance.