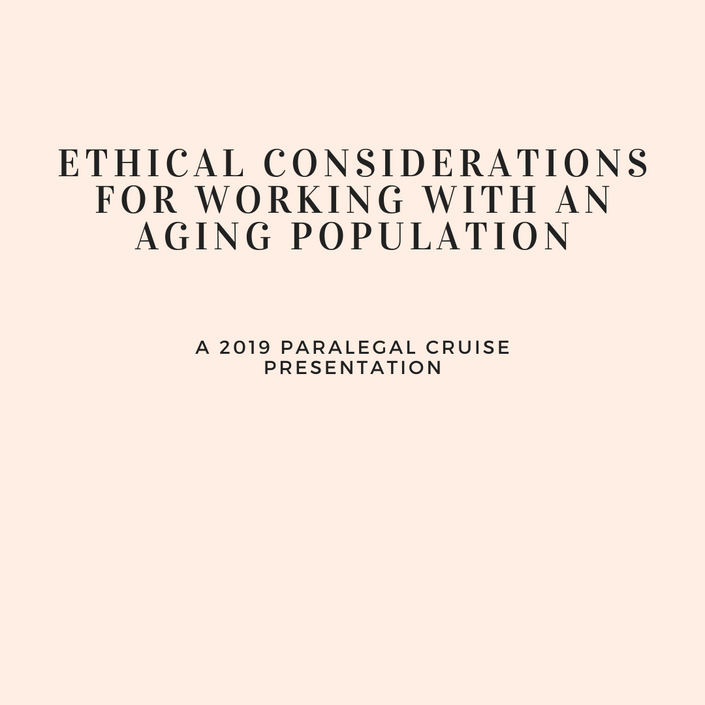 Ethical Considerations for Working With An Aging Population
1.0 CLE (Including 1.0 Ethics)
During this presentation, Ms. Cheng discussed:
A demographic overview
Client identification
Undue influence
Capacity
Client waiver
Elder financial abuse
About the Presenter:
Marguerita M. Cheng is the chief executive officer at Blue Ocean Global Wealth. She is a past spokesperson for the AARP Financial Freedom Campaign, a member of the CNBC FA Council, and a regular columnist for Investopedia & Kiplinger. As a Certified Financial Planner Board of Standards (CFP Board) Ambassador, Marguerita helps educate the public, policymakers, and media about the benefits of competent, ethical financial planning. She serves as a Women's Initiative (WIN) Advocate and subject matter expert for CFP Board, contributing to the development of examination questions for the CFP® Certification Examination. In 2017, she was named the #3 Most Influential Financial Advisor in the Investopedia Top 100 and a Woman to Watch by InvestmentNews.
Important Information
Please do not sign-up for this course if you have previously purchased the 2019 Paralegal Cruise package as this will be a duplicate. You can learn about the 2019 Paralegal Cruise Package here.

Please visit this link for answers to Frequently Asked Questions about our CLE: https://www.perfectlyparalegal.com/p/clefaq
Sponsor

This course has been provided by The TASA Group. Founded in 1956, The TASA Group is the leading provider of a variety of quality, independent, testifying and consulting experts nationwide, giving clients access to seasoned professionals in 11,000+ technical and medical specialties. The TASA Group is dedicated to providing the best experts and consultants available to meet clients' diverse needs.
You can check out their website at: https://www.tasanet.com/

Continuing Legal Education Credit (CLE)
NALA: This seminar is pre-approved by the Certifying Board of the National Association of Legal Assistants (NALA).
FRP: As approved by NALA, this seminar meets the requirements under Rule 20-6.1 of the Rules Regulating The Florida Bar for continuing legal education credit required to maintain the FRP credential.
NALS: This seminar is pre-approved by NALS, Inc. for continuing legal education credit required to maintain your NALS credential.
NFPA accepts substantive CLE hours bearing NALA accreditation.
South Carolina: This program has been approved by the South Carolina Bar for South Carolina Certified Paralegals.
North Carolina: This program has been approved by the North Carolina State Bar Board of Paralegal Certification. The approval for this program expires on 3/1/2022.
State Bar of Texas – Paralegal Division – The Division accepts substantive law CLE approved by NALA.
CLE Credits from this program are pre-approved by NALA (and other associations as identified above) and can be used for your CLE requirements with any other associations which accept credits that hold NALA's approval. A certificate of completion is awarded upon completion of this program. It is the students responsibility to ensure NALA approved credits will be accepted by the entity they report credits to before signing up.
If you aren't sure, please e-mail [email protected] for assistance.