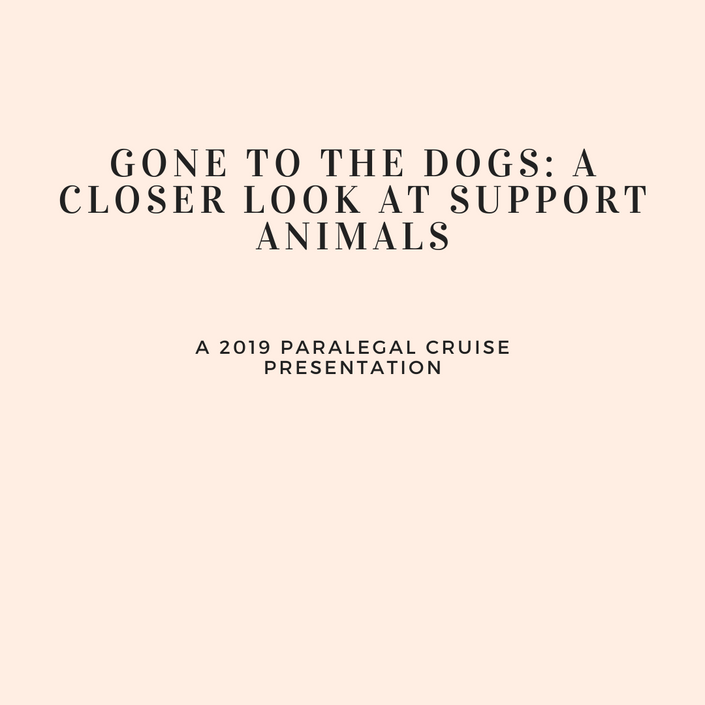 Gone to the Dogs: a Closer Look at Support Animals
1.0 CLE (Including .5 Ethics)
Course Description
With so much publicity lately about emotional support animals, it's easy to overlook the very valuable work our furry friends can do. This session will look at the various types of service animals, the legal basis for their acceptance, how (or whether) they are credentialed, and related controversies.
By the end of the session, participants will be able to:
a. Distinguish between the three types of support animals
b. Understand the laws that helped to create our current animal-indulgent culture
c. Learn how dogs are used in courtroom settings
Meet Your Speaker
Nancy N. Beaty, MA, ACP, FRP has been a practicing paralegal for over 30 years and a Certified Paralegal® since 1990. She was graduated from the University of Texas at Austin with a degree in journalism and earned a Master of Arts in Communications from Marshall University in Huntington, WV. She qualified for the Florida Bar's designation as a Florida Registered Paralegal at the onset of the program in 2008 and earned the designation of Advanced Certified Paralegal in 2009.
A founder and two-time past president of the Gulf Coast Paralegal Association (GCPA), Nancy also served as its treasurer and NALA Liaison. She was a member of the board of directors of the Florida Alliance of Paralegal Associations for three years, and served on the NALA board of directors from 2013-2015. She has been a frequent instructor for CP review courses and a proctor for several sessions of the CP Exam.
Nancy has been presented with the NALA Affiliated Associations Outstanding Contribution Award twice, and in 2016 was honored to receive NALA's Outstanding Contribution Award in recognition of her service to GCPA.
She is employed by the firm of Lindsay & Allen, PLLC, Naples, and the owner of Beaty Scoping & Proofreading, LLC, providing scoping, proofreading, transcription and editing services to court reporters and others.
Course Information
This course is a recording of a live event which took place as part of the 2019 Paralegal Cruise.
This program consists of a video recording and a PDF version of the Power Point presentation. The recording may include some background noise or other interruptions typical of live events.
Please do not purchase this course if you have previously purchased the 2019 Paralegal Cruise package as this will be a duplicate. You can learn about the 2019 Paralegal Cruise Package here.
Please visit this link for answers to Frequently Asked Questions about our CLE: https://www.perfectlyparalegal.com/p/clefaq
Continuing Legal Education Credit (CLE)
NALA: This seminar is pre-approved by the Certifying Board of the National Association of Legal Assistants (NALA).
FRP: As approved by NALA, this seminar meets the requirements under Rule 20-6.1 of the Rules Regulating The Florida Bar for continuing legal education credit required to maintain the FRP credential.
NALS: This seminar is pre-approved by NALS, Inc. for continuing legal education credit required to maintain your NALS credential.
NFPA accepts substantive CLE hours bearing NALA accreditation.
South Carolina: This program has been approved by the South Carolina Bar for South Carolina Certified Paralegals.
North Carolina: This program has been approved by the North Carolina State Bar Board of Paralegal Certification. The approval for this program expires on 3/1/2022.
State Bar of Texas – Paralegal Division – The Division accepts substantive law CLE approved by NALA.
CLE Credits from this program are pre-approved by NALA (and other associations as identified above) and can be used for your CLE requirements with any other associations which accept credits that hold NALA's approval. A certificate of completion is awarded upon completion of this program. It is the students responsibility to ensure NALA approved credits will be accepted by the entity they report credits to before signing up.
If you aren't sure, please e-mail [email protected] for assistance.