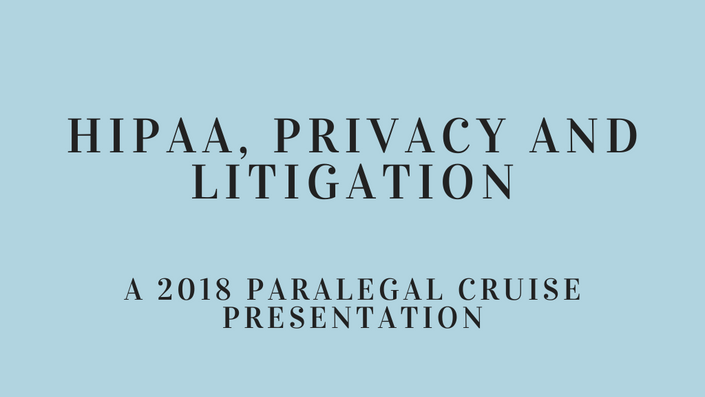 HIPAA, Privacy and Litigation
1.5 CLE (Substantive Including .5 Ethics)
Course Description

Paralegals in the litigation profession embark on discovery that may involve complex matters pertaining to privacy laws, including obtaining medical records and other sensitive information from governmental and private organizations. This course will provide a brief overview of the HIPAA implications involved in obtaining records, various federal and state privacy laws, and their implications in civil litigation, domestic relations, and probate law.

Meet Your Speaker

Ed C. Schneider, F.Inst.Pa., EMT, EMD-A is a graduate of Grand Valley State University with a BA in Criminology and Legal Studies and a minor in Biomedical Sciences and is currently the President of the Rocky Mountain Paralegal Association. He received his EMT license credential from the Grandville High School/LIFE EMS Ambulance EMT program. He became a licensed EMT with the State of Michigan in 2003 and with the State of Illinois in 2007 and has been licensed since. Additionally, he holds his Advanced Emergency Medical Dispatcher certification with the National Academies of Emergency Dispatch. From 2003 through 2007 and 2013 through 2014, he has worked as an Emergency Medical Technician and 911 Medical Dispatcher and served on the FEMA National Disaster Support Crew for Hurricane Katrina and Hurricane Dean deployments. Since 2007, he has worked as a litigation paralegal for a variety of firms in Illinois and Colorado. He holds his Tier 4 Practicing License with the United Kingdom of Institute of Paralegals and was elected fellow of the organization in 2015. He has presented on a variety of topics ranging from same-sex marriage to international law and also wrote for the National Paralegal Reporter on HIPAA.

In addition to these roles, he has served as VP of Administration (2015-2016) and President-Elect (2016-2017) of the Rocky Mountain Paralegal Association; Secretary of the Colorado GLBT Bar Association (2010 – 2014); Paralegal Section Co-Chair of the Boulder County Bar Association (2011-2013); and the City & County of Denver Commission on Persons with Disabilities.
Course Information
This course is an recording of a live event which took place as part of the 2018 Paralegal Cruise.
This program consists of a video recording and powerpoint presentation. The recording may include some background noise or other interruptions typical of live events.
Please do not purchase this course if you have previously purchased the 2018 Paralegal Cruise package as this will be a duplicate. You can learn about the 2018 Paralegal Cruise Package here.
Please visit this link for answers to Frequently Asked Questions about our CLE: http://miamifrp.com/cle-faq/
Continuing Legal Education Credit (CLE)
NALA: This seminar is pre-approved by the Certifying Board of the National Association of Legal Assistants (NALA).
FRP: As approved by NALA, this seminar meets the requirements under Rule 20-6.1 of the Rules Regulating The Florida Bar for continuing legal education credit required to maintain the FRP credential.
NALS: This seminar is pre-approved by NALS, Inc. for continuing legal education credit required to maintain your NALS credential.

NFPA accepts substantive CLE hours bearing NALA accreditation.

South Carolina: This program has been approved by the South Carolina Bar for South Carolina Certified Paralegals. Approval is valid through June 30, 2020.

CLE Credits from this program are pre-approved by NALA and can be used for your CLE requirements with any other associations which accept credits that hold NALA's approval. A certificate of completion is awarded upon completion of this program. It is the students responsibility to ensure NALA approved credits will be accepted by the entity they report credits to before signing up. If you aren't sure, please e-mail [email protected] for assistance.