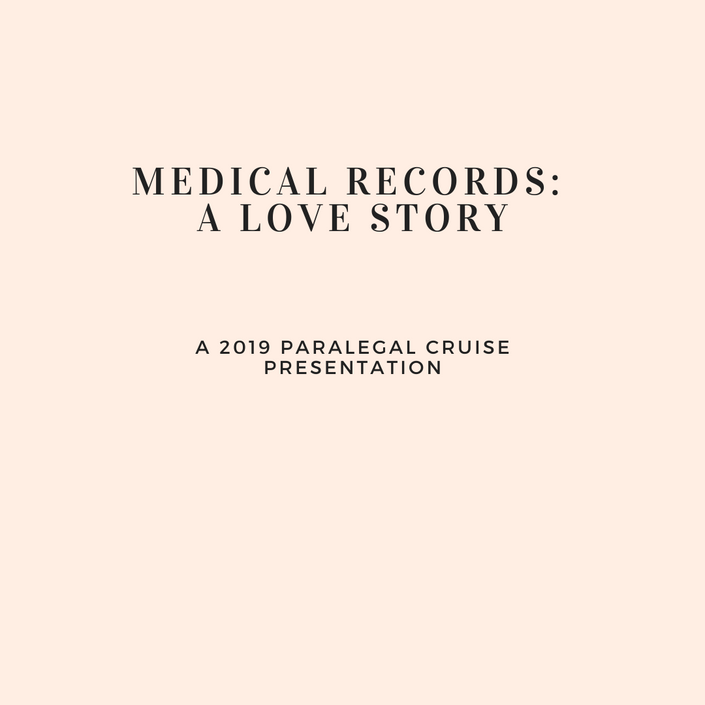 Medical Records: A Love Story
1.0 CLE
Course Description
Medical records provide a wealth of information beyond the obvious. They can often make or break a case. Lee will teach you the language and anatomy of a medical record, the basics of deciphering handwriting and how to know what you're looking for so that you can fall in love with medical records and make them your bitch.
Meet Your Speaker
Lee Strausberg is a smartass with a penchant for fun. He is an RN with experience in ICU, Cardiac Care, Rehabilitation, Nursing Homes and the management of a doctor's office. After completely destroying his back in nursing, he returned to school for a paralegal studies degree. He currently combines both of his degrees working as a nurse paralegal doing insurance defense, personal injury litigation for a medium-sized firm in the loop in Chicago.

Course Information
This course is a recording of a live event which took place as part of the 2019 Paralegal Cruise.
This program consists of a video recording and a PDF version of the Power Point Presentation. The recording may include some background noise or other interruptions typical of live events.
Please do not purchase this course if you have previously purchased the 2019 Paralegal Cruise package as this will be a duplicate. You can learn about the 2019 Paralegal Cruise Package here.
Please visit this link for answers to Frequently Asked Questions about our CLE: https://www.perfectlyparalegal.com/p/clefaq
Continuing Legal Education Credit (CLE)
NALA: This seminar is pre-approved by the Certifying Board of the National Association of Legal Assistants (NALA).
FRP: As approved by NALA, this seminar meets the requirements under Rule 20-6.1 of the Rules Regulating The Florida Bar for continuing legal education credit required to maintain the FRP credential.
NALS: This seminar is pre-approved by NALS, Inc. for continuing legal education credit required to maintain your NALS credential.
NFPA accepts substantive CLE hours bearing NALA accreditation.
South Carolina: This program has been approved by the South Carolina Bar for South Carolina Certified Paralegals.
North Carolina: This program has been approved by the North Carolina State Bar Board of Paralegal Certification. The approval for this program expires on 3/1/2022.
State Bar of Texas – Paralegal Division – The Division accepts substantive law CLE approved by NALA.
CLE Credits from this program are pre-approved by NALA (and other associations as identified above) and can be used for your CLE requirements with any other associations which accept credits that hold NALA's approval. A certificate of completion is awarded upon completion of this program. It is the students responsibility to ensure NALA approved credits will be accepted by the entity they report credits to before signing up.
If you aren't sure, please e-mail [email protected] for assistance.