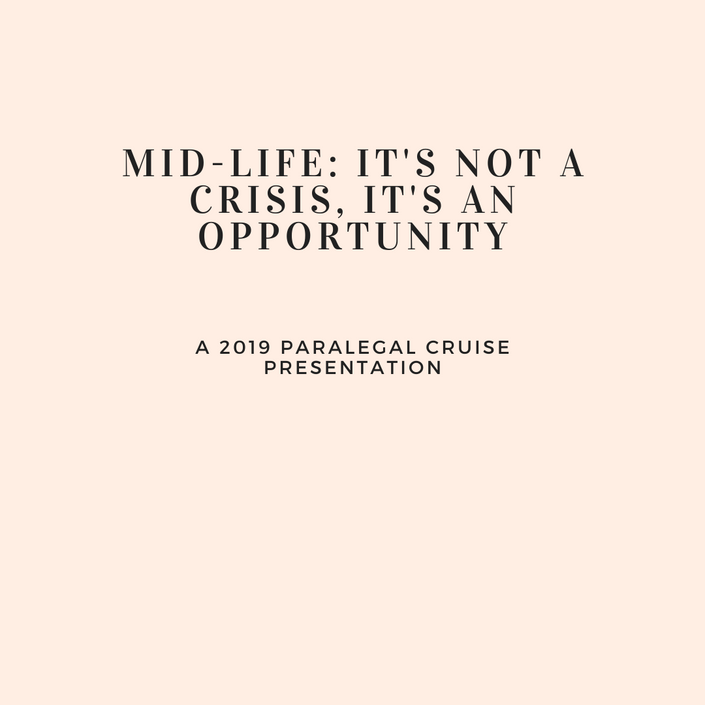 Mid-Life: It's not a crisis, it's an opportunity
1.0 CLE
Course Description
This workshop will allow you to:
Gain a new understanding of what it means to be "mid-life"
Learn that your circumstances do not define you
Define your dreams using specific visualization techniques
Discover hidden opportunities waiting to be explored
Meet Your Speaker
Gayle Damiano is the founder of Legal Ease Wellness. She has a unique background that spans the Arts, the Legal Industry and the world of Holistic Healing.
She holds a degree in fine arts and has built a career in the legal industry as a highly recommended litigation services specialist over the last fourteen years. On top of that, she holds certificates and licenses in the healing arts such as massage therapy and health coaching. Gayle is a gifted energy healer and intuitive and is now working full time with her one on one clients to facilitate their highest healing and their most significant breakthroughs.
Gayle created Legal Ease Wellness, LLC out of a need to open a dialogue about health well-being in the legal community and to offer her knowledge and support in the best way to her clients.
Read the testimonials on Gayle's website and see more about what she is up to at www.GayleDamiano.com
Course Information
This course is a recording of a live event which took place as part of the 2019 Paralegal Cruise.
This program consists of a video recording. The recording may include some background noise or other interruptions typical of live events.
Please do not purchase this course if you have previously purchased the 2019 Paralegal Cruise package as this will be a duplicate. You can learn about the 2019 Paralegal Cruise Package here.
Please visit this link for answers to Frequently Asked Questions about our CLE: https://www.perfectlyparalegal.com/p/clefaq
Continuing Legal Education Credit (CLE)
NALA: This seminar is pre-approved by the Certifying Board of the National Association of Legal Assistants (NALA).
FRP: As approved by NALA, this seminar meets the requirements under Rule 20-6.1 of the Rules Regulating The Florida Bar for continuing legal education credit required to maintain the FRP credential.
NALS: This seminar is pre-approved by NALS, Inc. for continuing legal education credit required to maintain your NALS credential.
NFPA accepts substantive CLE hours bearing NALA accreditation.
South Carolina: This program has been approved by the South Carolina Bar for South Carolina Certified Paralegals.
North Carolina: This program has been approved by the North Carolina State Bar Board of Paralegal Certification. The approval for this program expires on 3/1/2022.
State Bar of Texas – Paralegal Division – The Division accepts substantive law CLE approved by NALA.
CLE Credits from this program are pre-approved by NALA (and other associations as identified above) and can be used for your CLE requirements with any other associations which accept credits that hold NALA's approval. A certificate of completion is awarded upon completion of this program. It is the students responsibility to ensure NALA approved credits will be accepted by the entity they report credits to before signing up.
If you aren't sure, please e-mail [email protected] for assistance.