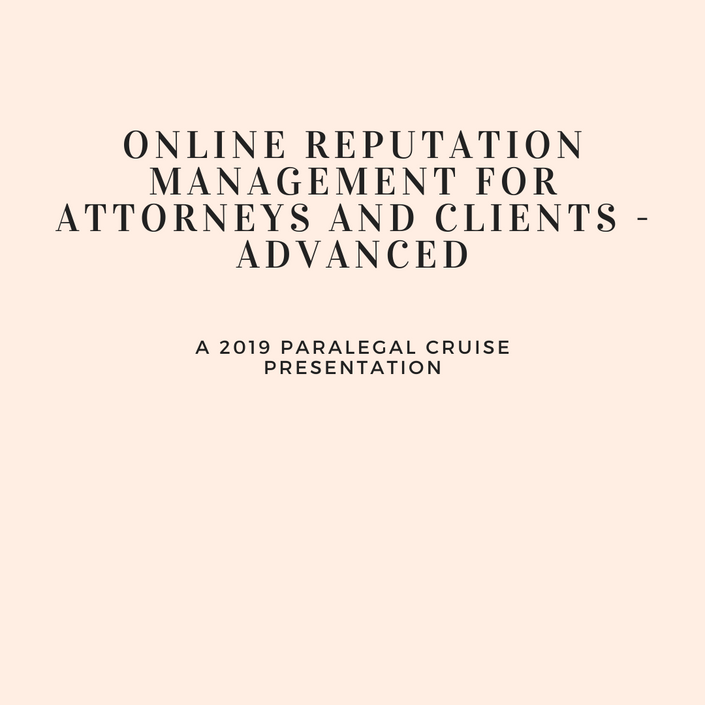 Online Reputation Management for Attorneys and Clients - Advanced
1.0 CLE (Including .5 Ethics)
During this presentation, Sameer and Rajiv discussed:
Understanding ORM: Attorneys, firms, and clients
ORM repair
Best practices & key strategies
Case studies
Summary
About the Presenters:
Sameer Somal is the chief financial officer at Blue Ocean Global Wealth and Blue Ocean Global Technology. Sameer is a CFA charterholder, a CFP® professional, and a Chartered Alternative Investment AnalystSM. A member of the speakers' series at the Johns Hopkins University Carey School of Business, Sameer is a frequent speaker on the digital revolution, succession planning, technology, diversity, retirement, financial planning, entrepreneurship, and leadership. In May of 2017, he was named an Iconic Leader Creating a Better World for All by the All Ladies League & Women Economic Forum.
Rajiv Sharma is the chief sales officer at Blue Ocean Global Technology. His leadership and experience includes successful client engagements in 50+ countries. A senior software engineer, Rajiv is well versed in open source development, standardization of technologies, and industry best practices. Rajiv oversees client workflow, evaluates technology infrastructure, and provides solutions to improve organizational performance. He manages premier partnerships and his team develops new relationships globally. Rajiv is a keynote speaker at industry conferences in North America, Africa, and Asia.
Important Information
Please do not sign-up for this course if you have previously purchased the 2019 Paralegal Cruise package as this will be a duplicate. You can learn about the 2019 Paralegal Cruise Package here.

Please visit this link for answers to Frequently Asked Questions about our CLE: https://www.perfectlyparalegal.com/p/clefaq
Sponsor

This course has been provided by The TASA Group. Founded in 1956, The TASA Group is the leading provider of a variety of quality, independent, testifying and consulting experts nationwide, giving clients access to seasoned professionals in 11,000+ technical and medical specialties. The TASA Group is dedicated to providing the best experts and consultants available to meet clients' diverse needs.
You can check out their website at: https://www.tasanet.com/

Continuing Legal Education Credit (CLE)
NALA: This seminar is pre-approved by the Certifying Board of the National Association of Legal Assistants (NALA).
FRP: As approved by NALA, this seminar meets the requirements under Rule 20-6.1 of the Rules Regulating The Florida Bar for continuing legal education credit required to maintain the FRP credential.
NALS: This seminar is pre-approved by NALS, Inc. for continuing legal education credit required to maintain your NALS credential.
NFPA accepts substantive CLE hours bearing NALA accreditation.
South Carolina: This program has been approved by the South Carolina Bar for South Carolina Certified Paralegals.
North Carolina: This program has been approved by the North Carolina State Bar Board of Paralegal Certification. The approval for this program expires on 3/1/2022.
State Bar of Texas – Paralegal Division – The Division accepts substantive law CLE approved by NALA.
CLE Credits from this program are pre-approved by NALA (and other associations as identified above) and can be used for your CLE requirements with any other associations which accept credits that hold NALA's approval. A certificate of completion is awarded upon completion of this program. It is the students responsibility to ensure NALA approved credits will be accepted by the entity they report credits to before signing up.
If you aren't sure, please e-mail [email protected] for assistance.