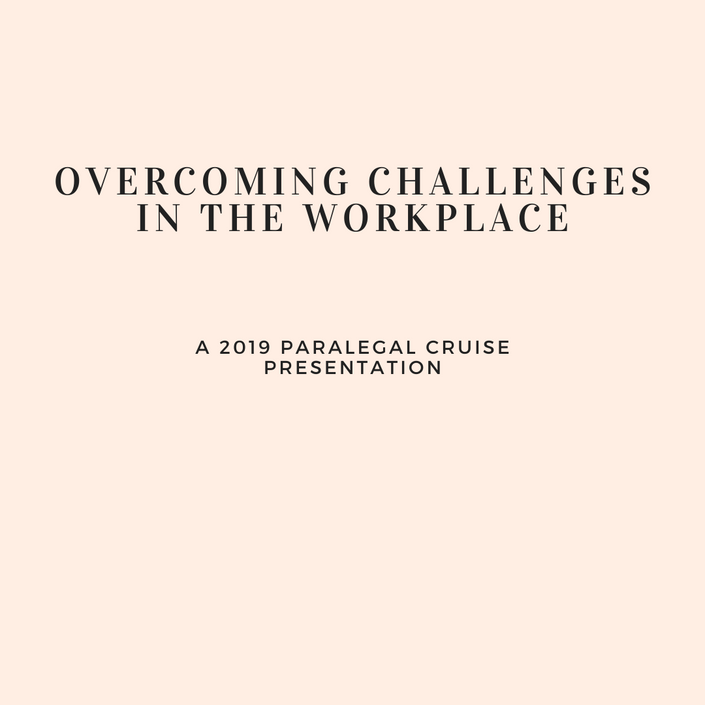 Overcoming Challenges in the Workplace
1.0 CLE
Course Description
Some of the topics covered in this presentation include:
I. Handling Abusive Bosses
A. dealing with screamers
B. don't let your employer take advantage of you
C. set boundaries
D. be more compassionate to yourself
II. Taking Breaks
A. lunch breaks
B. overtime
C. establish support network
D. disconnect from work once at home
III. Gossip in the Office
A. rumors
B. false information
C. not participating in negativity
D. stay positive
IV. Receiving Pay on Time
A. employees vs. independent contractors
B. 1099 employee
C. cutting losses and moving on
Meet Your Speaker
Felice brings thirty years of extensive, successful legal and administrative recruitment experience to the South Florida marketplace. Originally from New York City, Felice began her career working in several of New York's finest law firms in various capacities including; office management, paralegal, legal secretarial and executive assistant.
Felice formed the Solomon Search Group in June of 2009 and has continued successful growth of her firm which includes eight recruiters. Felice and her team are experts at identifying, evaluating and recruiting top-notch talent for her clients. She comes with a complete understanding of the various cultures within law firms and corporations. In addition, she has an overall appreciation of the many challenges hiring authorities face daily and the encounters of recruitment in a candidate driven market.
Solomon Search is proud to be listed in the 2018 South Florida Book of Lists as #5 for Executive Placement Companies and has been recognized and certified as a Women Business Owned Company by WBENC.

Course Information
This course is a recording of a live event which took place as part of the 2019 Paralegal Cruise.
This program consists of a video recording. The recording may include some background noise or other interruptions typical of live events.
Please do not purchase this course if you have previously purchased the 2019 Paralegal Cruise package as this will be a duplicate. You can learn about the 2019 Paralegal Cruise Package here.
Please visit this link for answers to Frequently Asked Questions about our CLE: https://www.perfectlyparalegal.com/p/clefaq
Continuing Legal Education Credit (CLE)
NALA: This seminar is pre-approved by the Certifying Board of the National Association of Legal Assistants (NALA).
FRP: As approved by NALA, this seminar meets the requirements under Rule 20-6.1 of the Rules Regulating The Florida Bar for continuing legal education credit required to maintain the FRP credential.
NALS: This seminar is pre-approved by NALS, Inc. for continuing legal education credit required to maintain your NALS credential.
NFPA accepts substantive CLE hours bearing NALA accreditation.
South Carolina: This program has been approved by the South Carolina Bar for South Carolina Certified Paralegals.
North Carolina: This program has been approved by the North Carolina State Bar Board of Paralegal Certification. The approval for this program expires on 3/1/2022.
State Bar of Texas – Paralegal Division – The Division accepts substantive law CLE approved by NALA.
CLE Credits from this program are pre-approved by NALA (and other associations as identified above) and can be used for your CLE requirements with any other associations which accept credits that hold NALA's approval. A certificate of completion is awarded upon completion of this program. It is the students responsibility to ensure NALA approved credits will be accepted by the entity they report credits to before signing up.
If you aren't sure, please e-mail [email protected] for assistance.