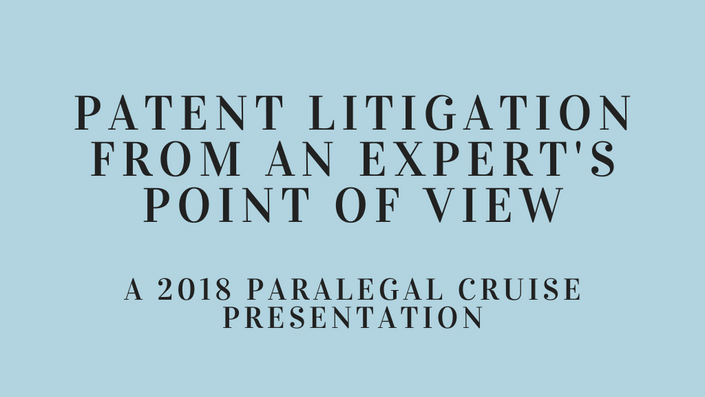 Patent Litigation from an Expert's Point of View
1.0 CLE
Course Description

During this presentation, Dr. Direen discussed:
Patents
Product analysis and reverse engineering
Plaintiff and defense side notes
Defense side notes
Non-testifying consultants
Depositions
Court testimony
Meet Your Speaker

Dr. Harry Direen has more than 30 years of experience as an engineer designing and developing products in the electronics and software industry. He has worked in the areas of control systems; embedded systems design and development; control of UAVs/Drones; product reverse engineering, and as a testifying expert in patent infringement cases.

Course Information
Please do not sign-up for this course if you have previously purchased the 2018 Paralegal Cruise package as this will be a duplicate. You can learn about the 2018 Paralegal Cruise Package here.

Please visit this link for answers to Frequently Asked Questions about our CLE: http://miamifrp.com/cle-faq/
Sponsor

This course has been provided by The TASA Group. Founded in 1956, The TASA Group is the leading provider of a variety of quality, independent, testifying and consulting experts nationwide, giving clients access to seasoned professionals in 11,000+ technical and medical specialties. The TASA Group is dedicated to providing the best experts and consultants available to meet clients' diverse needs.
You can check out their website at: https://www.tasanet.com/

How to sign up for this Course
This course is included in the 2018 Paralegal Cruise Package. You can learn about the 2018 Paralegal Cruise Package here.
Alternatively, this course is available as a free perk to Perfectly Paralegal Elite members. Perfectly Paralegal Elite is a subscription membership group on Facebook. Each month, in addition to other benefits, members can choose one CLE course as a member benefit. Click here to learn more: Perfectly Paralegal Elite - a free 7 day trial is available, but course sign-up is only available to regular members.
Continuing Legal Education Credit (CLE)
NALA: This seminar is pre-approved by the Certifying Board of the National Association of Legal Assistants (NALA).
FRP: As approved by NALA, this seminar meets the requirements under Rule 20-6.1 of the Rules Regulating The Florida Bar for continuing legal education credit required to maintain the FRP credential.
NALS: This seminar is pre-approved by NALS, Inc. for continuing legal education credit required to maintain your NALS credential.

NFPA accepts substantive CLE hours bearing NALA accreditation.

CLE Credits from this program are pre-approved by NALA and can be used for your CLE requirements with any other associations which accept credits that hold NALA's approval. A certificate of completion is awarded upon completion of this program. It is the students responsibility to ensure NALA approved credits will be accepted by the entity they report credits to before signing up. If you aren't sure, please e-mail [email protected] for assistance.