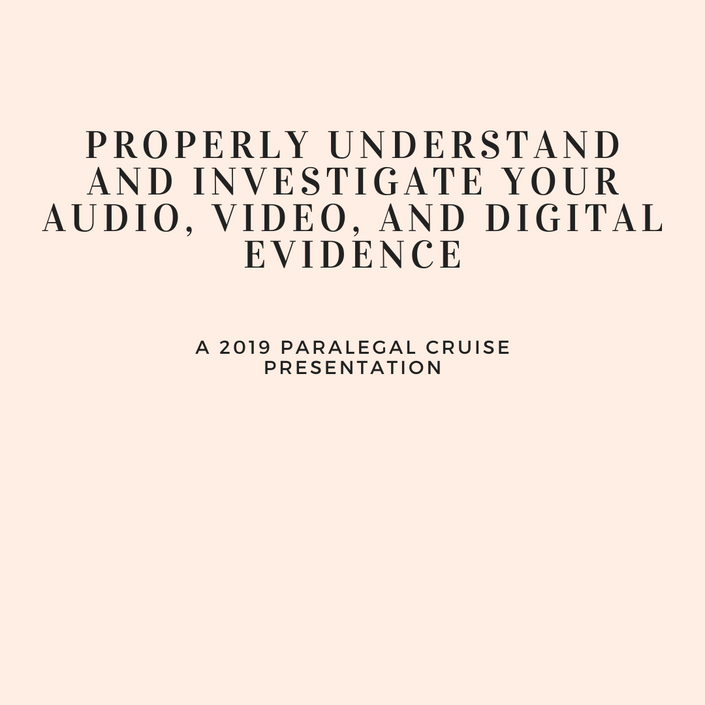 Properly Understand and Investigate Your Audio, Video, and Digital Evidence
1.0 CLE
During this presentation, Mr. Notowitz discussed:
13 tips to prevent crucial mistakes with audio, video, and digital evidence
Issues regarding admissibility of audio and video evidence in court
Options for recovering erased hard drive and smartphone files
Preparing audio and video exhibits for clarity and best results
Challenges of presenting audio, video and still image evidence at trial
About The Presenter:
David Notowitz is the founder and chief audio and video forensic expert at NCAVF, a nationally recognized forensic digital media lab, trusted by police departments, Public defenders, large insurance companies and private attorneys to assess and clarify recorded audio, video and digital evidence. The expert witness testimony by NCAVF — presented in clear, concise language and with an approachable style — has consistently proven in post-verdict jury interviews to be crucial to a jury's understanding of the facts of a case. Mr. Notowitz is an Emmy award winning producer and multi-faceted video and audio evidence expert. His past specialties include commercial, feature file and event video production. In 1986 he started Notowitz Productions and produced daily television news for Financial News Network. He produced and edited corporate videos for clients such as Fox, Yahoo, GM, IBM, and Disney.
Important Information
Please do not sign-up for this course if you have previously purchased the 2019 Paralegal Cruise package as this will be a duplicate. You can learn about the 2019 Paralegal Cruise Package here.

Please visit this link for answers to Frequently Asked Questions about our CLE: https://www.perfectlyparalegal.com/p/clefaq
Sponsor

This course has been provided by The TASA Group. Founded in 1956, The TASA Group is the leading provider of a variety of quality, independent, testifying and consulting experts nationwide, giving clients access to seasoned professionals in 11,000+ technical and medical specialties. The TASA Group is dedicated to providing the best experts and consultants available to meet clients' diverse needs.
You can check out their website at: https://www.tasanet.com/

Continuing Legal Education Credit (CLE)
NALA: This seminar is pre-approved by the Certifying Board of the National Association of Legal Assistants (NALA).
FRP: As approved by NALA, this seminar meets the requirements under Rule 20-6.1 of the Rules Regulating The Florida Bar for continuing legal education credit required to maintain the FRP credential.
NALS: This seminar is pre-approved by NALS, Inc. for continuing legal education credit required to maintain your NALS credential.
NFPA accepts substantive CLE hours bearing NALA accreditation.
South Carolina: This program has been approved by the South Carolina Bar for South Carolina Certified Paralegals.
North Carolina: This program has been approved by the North Carolina State Bar Board of Paralegal Certification. The approval for this program expires on 3/1/2022.
State Bar of Texas – Paralegal Division – The Division accepts substantive law CLE approved by NALA.
CLE Credits from this program are pre-approved by NALA (and other associations as identified above) and can be used for your CLE requirements with any other associations which accept credits that hold NALA's approval. A certificate of completion is awarded upon completion of this program. It is the students responsibility to ensure NALA approved credits will be accepted by the entity they report credits to before signing up.
If you aren't sure, please e-mail [email protected] for assistance.