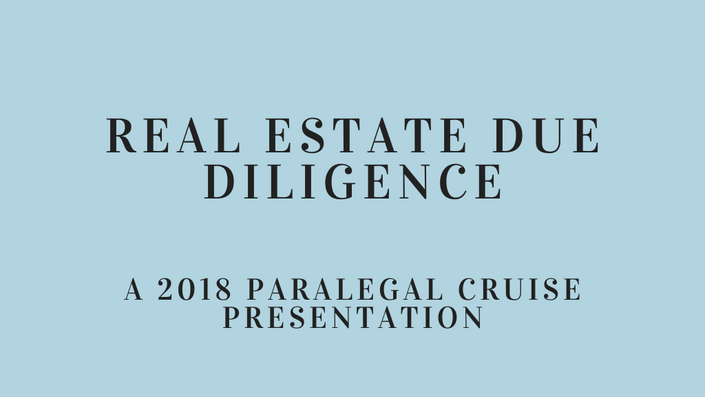 Real Estate Due Diligence
1.5 CLE (Substantive)
Course Description

You found the perfect house, the seller has accepted your offer, and you are ready to close and move in! But as a paralegal specializing in something other than real estate, you may not be familiar with a title commitment or land survey. Do you know what document gives the city or county permission to take/use a portion of your property? Or whether a lender or vendor has a lien on your home? Is that greenbelt behind your house a "real" greenbelt or will you someday have a movie theatre in your backyard? This seminar shows you what real estate agents and subdivision sales agents don't know or won't tell you and gives you hands-on experience in reviewing title commitments and land surveys, so you can have the answers you need before buying a new home.
Meet Your Speaker

Ms. Givens has been a paralegal with the firm Golden Steves and Gordon, LLP for two years. She is a highly knowledgeable and experienced commercial real estate paralegal with over 30 years of experience in real estate due diligence, finance, mergers and acquisitions, land use and transportation law. Prior to moving to Texas, Ms. Givens worked for 16 years at Foster Pepper PLLC, a large nationally-known Seattle firm, where she also assisted in many multi-state, multi-property transactions. Previous experience also includes four years as a corporate paralegal which experience has consistently been used throughout the years in her real estate practice.
Course Information
This course is an recording of a live event which took place as part of the 2018 Paralegal Cruise.
This program consists of a video recording, powerpoint presentation and supplemental handout materials. The recording may include some background noise or other interruptions typical of live events.
Please do not purchase this course if you have previously purchased the 2018 Paralegal Cruise package as this will be a duplicate. You can learn about the 2018 Paralegal Cruise Package here.
Please visit this link for answers to Frequently Asked Questions about our CLE: http://miamifrp.com/cle-faq/
Continuing Legal Education Credit (CLE)
NALA: This seminar is pre-approved by the Certifying Board of the National Association of Legal Assistants (NALA).
FRP: As approved by NALA, this seminar meets the requirements under Rule 20-6.1 of the Rules Regulating The Florida Bar for continuing legal education credit required to maintain the FRP credential.
NALS: This seminar is pre-approved by NALS, Inc. for continuing legal education credit required to maintain your NALS credential.

NFPA accepts substantive CLE hours bearing NALA accreditation.

South Carolina: This program has been approved by the South Carolina Bar for South Carolina Certified Paralegals. Approval is valid through June 30, 2020.

CLE Credits from this program are pre-approved by NALA and can be used for your CLE requirements with any other associations which accept credits that hold NALA's approval. A certificate of completion is awarded upon completion of this program. It is the students responsibility to ensure NALA approved credits will be accepted by the entity they report credits to before signing up. If you aren't sure, please e-mail [email protected] for assistance.