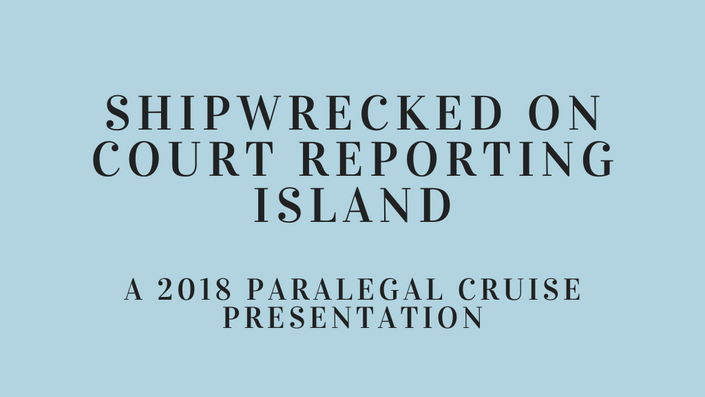 Shipwrecked on Court Reporting Island
1.5 CLE (Substantive)
Course Description

Do you have a perplexing issue for your next deposition setting? Is opposing counsel's requests complicating matters? Do you feel at times you are navigating in rough seas? Let these three reporting experts help you get to shore with what could be lifesaving information. This fun and interactive seminar will include entertaining stories about their "disasters" at sea, give insight into the services available from reporting professionals, and also provide some great takeaways for avoiding your next iceberg
Meet Your Speakers

Shelly Hunter is the president and owner of Hunter + Geist, Inc., a successful court reporting firm in Denver, Colorado. Her firm has been serving the legal community for over 35 years. Hunter + Geist has continually been a leader in integrating and leveraging evolving technologies and employs court reporters that stay abreast of the ever-changing technologies and strive for the highest certifications.

Christine Randall is a Certified Shorthand Reporter in the State of California and a Registered Professional Reporter with the National Court Reporters Association.Christine is also the President of Wood & Randall, a court reporting agency doing business in the Central Valley of California since the early '80s. With a philosophy of "Moving Forward with Technology and Excellence," Wood & Randall identifies the needs of the client and exceeds their expectations. This philosophy and practice of providing excellent service and state-of-the-art litigation support has defined them as a leader in the industry.
Jim Connor, RPR, CRR, CSR, CLVS, is a 36-year reporting veteran, and an owner of Connor Reporting in Indianapolis, Lafayette and Bloomington, Indiana. Jim has also attained his trial presentation certification in both Trial Director and Visionary softwares. He has extensive deposition and arbitration reporting experience, and specializes in international labor union convention reporting. During his reporting career he has worked with every U.S. President since Jimmy Carter, as well as former South African President Nelson Mandela, and former president of Poland, Lech Walesa. Another of his expertise is reporting press conferences for sporting events such as the Indianapolis 500, NASCAR's Brickyard 400, Formula One, and MotoGP races with immediate turnaround for dissemination to the world's press.
Course Information
This course is an recording of a live event which took place as part of the 2018 Paralegal Cruise.
This program consists of a video recording. The recording may include some background noise or other interruptions typical of live events.
Please do not purchase this course if you have previously purchased the 2018 Paralegal Cruise package as this will be a duplicate. You can learn about the 2018 Paralegal Cruise Package here.
Please visit this link for answers to Frequently Asked Questions about our CLE: http://miamifrp.com/cle-faq/
Continuing Legal Education Credit (CLE)
NALA: This seminar is pre-approved by the Certifying Board of the National Association of Legal Assistants (NALA).
FRP: As approved by NALA, this seminar meets the requirements under Rule 20-6.1 of the Rules Regulating The Florida Bar for continuing legal education credit required to maintain the FRP credential.
NALS: This seminar is pre-approved by NALS, Inc. for continuing legal education credit required to maintain your NALS credential.

NFPA accepts substantive CLE hours bearing NALA accreditation.
South Carolina: This program has been approved by the South Carolina Bar for South Carolina Certified Paralegals. Approval is valid through June 30, 2020.

CLE Credits from this program are pre-approved by NALA and can be used for your CLE requirements with any other associations which accept credits that hold NALA's approval. A certificate of completion is awarded upon completion of this program. It is the students responsibility to ensure NALA approved credits will be accepted by the entity they report credits to before signing up. If you aren't sure, please e-mail [email protected] for assistance.