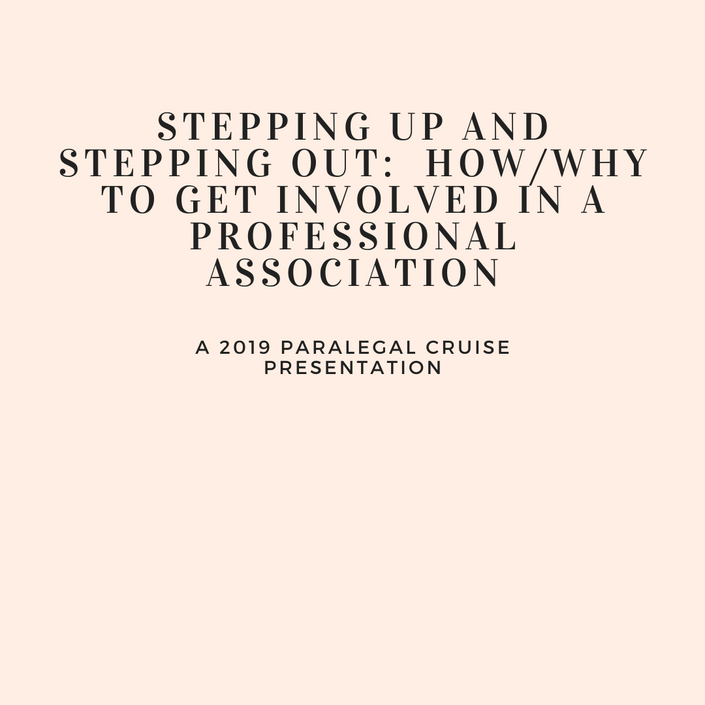 Stepping Up and Stepping Out:  How/Why to get Involved in a Professional Association
1.0 CLE
Course Description
Will discuss how and why to get involved and be active in professional association, which may entail getting out of your comfort zone.
Attendees will learn reasons to get involved in professional associations and give them examples on how to get started.
Attendees will learn skills they can perfect by getting involved in professional association – public speaking, etc.
Attendees will learn benefits and positive effects getting out of their comfort zone and getting involved in professional association has on your paralegal career.
Attendees will also learn basic information about NALA and what NALA offers its members and all paralegals.
Meet Your Speaker
Jill I. Francisco, ACP, received her BA in Criminal Justice, (concentration in Legal Studies), from Marshall University in 1994. She became a certified paralegal in 2005 and obtained two advanced certifications (trial practice and discovery) in 2010. Mrs. Francisco is employed as a paralegal with Dinsmore & Shohl, LLP, in their Huntington, West Virginia office. She previously worked as a paralegal at Huddleston Bolen LLP, 1997 through January of 2015 when they merged with Dinsmore & Shohl, LLP.
She is very active in local and national professional associations within her profession. She was Charter President of the Legal Assistants/Paralegals of Southern West Virginia 2004-2006, and has served as a member of the National Association of Legal Assistants (NALA) Professional Development Committee 2003-2006, NALA's Affiliated Associations Secretary 2006-2007, Affiliated Associations Director 2008-2010, NALA's Treasurer 2010-2012, NALA's Secretary 2012-2014, NALA's Second Vice President 2014-2016, NALA's Vice President 2016-2018, and is currently serving as NALA's President.
She also currently serves on the Legal Assistant Program Advisory Board for Mount West Community College and the Marshall University Big Green Scholarship Foundation Board of Trustees.
She resides in Kenova, West Virginia, with her husband, Shawn and their son, John David.
Course Information
This course is a recording of a live event which took place as part of the 2019 Paralegal Cruise.
This program consists of a video recording and one handout. The recording may include some background noise or other interruptions typical of live events.
Please do not purchase this course if you have previously purchased the 2019 Paralegal Cruise package as this will be a duplicate. You can learn about the 2019 Paralegal Cruise Package here.
Please visit this link for answers to Frequently Asked Questions about our CLE: https://www.perfectlyparalegal.com/p/clefaq
Continuing Legal Education Credit (CLE)
NALA: This seminar is pre-approved by the Certifying Board of the National Association of Legal Assistants (NALA).
FRP: As approved by NALA, this seminar meets the requirements under Rule 20-6.1 of the Rules Regulating The Florida Bar for continuing legal education credit required to maintain the FRP credential.
NALS: This seminar is pre-approved by NALS, Inc. for continuing legal education credit required to maintain your NALS credential.
NFPA accepts substantive CLE hours bearing NALA accreditation.
South Carolina: This program has been approved by the South Carolina Bar for South Carolina Certified Paralegals.
North Carolina: This program has been approved by the North Carolina State Bar Board of Paralegal Certification. The approval for this program expires on 3/1/2022.
State Bar of Texas – Paralegal Division – The Division accepts substantive law CLE approved by NALA.
CLE Credits from this program are pre-approved by NALA (and other associations as identified above) and can be used for your CLE requirements with any other associations which accept credits that hold NALA's approval. A certificate of completion is awarded upon completion of this program. It is the students responsibility to ensure NALA approved credits will be accepted by the entity they report credits to before signing up.
If you aren't sure, please e-mail [email protected] for assistance.