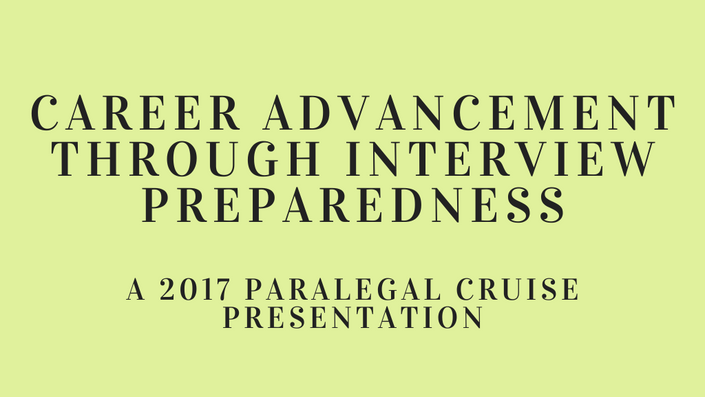 Career Advancement through Interview Preparedness
1.5 CLE (Non-Substantive)
Course Description

This seminar will cover:
Resume Preparation
Pre-Interview Tips
Researching the Company
Interview Attire
What to Bring on the Interview
Interview Process
Talking about Accomplishments and Attributes
Talking about Weaknesses, Challenges and Reasons for Leaving Prior Jobs
Questions to ask and Topics to NEVER bring up
Ending the Interview and Follow Up
Meet Your Speaker
Felice Solomon

Felice brings twenty years of extensive and successful legal recruiting experience to Solomon Search. Originally from New York City, Felice began her career working in several of New York's finest law firms in various capacities including: office management, paralegal, and legal secretarial. Felice is an expert at identifying, evaluating and recruiting top-notch talent for her clients. She comes with a complete understanding of the various cultures within a law firm. In addition, she has an overall appreciation of the many challenges administrators face daily, including running and managing successful law practices. Felice is also very active in her community. She is a member of the Parkland Coral Springs Business Group, a contributor to the Susan G. Komen Foundation and an active member of the Congregation Kol Tikvah sisterhood.

Course Information

This course is an audio recording of a live event which took place as part of the 2017 Paralegal Cruise. The power point from the event is also included.
The recording may include some background noise or other interruptions typical of live events.
Please do not purchase this course if you have previously purchased the 2017 Paralegal Cruise package as this will be a duplicate.

To learn about the 2017 Paralegal Cruise CLE Package, please click here.
You can learn about the 2018 Paralegal Cruise Package here.

Please visit this link for answers to Frequently Asked Questions about our CLE: http://miamifrp.com/cle-faq/
Continuing Legal Education Credit (CLE)
NALA: This seminar is approved by the Certifying Board of the National Association of Legal Assistants (NALA) for 1.5 CLE non-substantive continuing legal education credit required to maintain the CP or CLA credential.
Please note: Topics such as law office management, computer training, and other law-related topics are considered by NALA to be under the non-substantive category, which is limited to 10 hours per five-year certification period.

FRP: As approved by NALA, this seminar meets the requirements under Rule 20-6.1 of the Rules Regulating The Florida Bar for 1.0 hour of continuing legal education credit required to maintain the FRP credential.
CLE Credits from this program are pre-approved by NALA and can be used for your CLE requirements with any other associations which accept credits that hold NALA's approval. A certificate of completion is awarded upon completion of this program. It is the students responsibility to ensure NALA approved credits will be accepted by the entity they report credits to before signing up. If you aren't sure, please e-mail [email protected] for assistance.