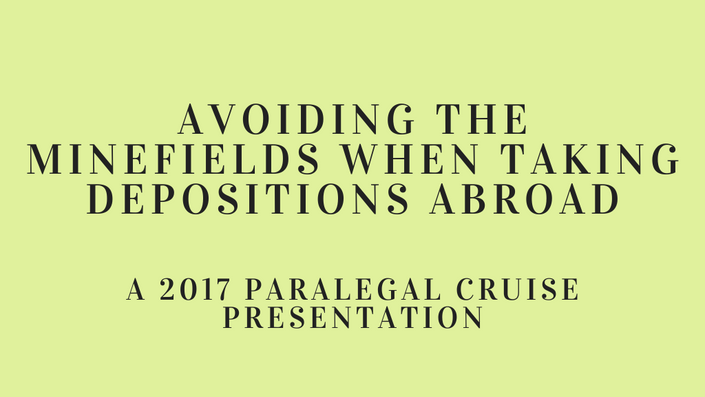 Avoiding The Minefields When Taking Depositions Abroad
1.0 CLE (Substantive)
Course Description

Attendees of this seminar will learn:
Important considerations and timelines when planning your international depositions
Which countries are parties to the Hague Convention and what does that mean

Letters of Request & Letters Rogatory

Which countries have restrictions and/or prohibitions on taking depositions, what those restrictions or prohibitions are, and what are your other options
Travel requirements (passports, visas, etc.)
Oath administration
What to consider when deciding on the venue for the depositions
Properly vetting and choosing the right interpreter
When and why you should attend a deposition in person versus remotely
What's the best way to handle exhibits, especially if there is a large volume
Meet Your Speakers
Lisa A. DiMonte, RMR, CMRS
With more than 38 years of experience in the court reporting industry, Lisa DiMonte serves as Chief Executive Officer for Planet Depos, a global court reporting company headquartered in Washington, D.C. Lisa has served on multiple state and national boards and committees, including the National Court Reporters Association, Maryland Court Reporters Association, Greater Washington Shorthand Reporters Association and the Society for Technological Advancement of Reporting.
Lisa has managed, mentored and trained hundreds of court reporters, videographers, technologists, attorneys, paralegals, legal secretaries and law firm personnel around the world and also serves as a consultant to court reporters and agencies around the globe. Lisa is a frequent speaker and presenter at law firms, court reporting and bar associations, as well as women's and paralegal groups.
Kristina L. Stubbs, Production Manager, B.A. Legal Studies, M.S. Management
Kristina L. Stubbs serves as Production Manager for Planet Depos. As head of the Production Department, she oversees the daily operations and implements programs to improve the client experience and maximize operational efficiency. Kristina regularly conducts legal research in order to ensure compliance with federal, state, and local deposition rules. She evaluates incoming cases and acts as a primary point of contact to Planet Depos clients to ensure the quality of services provided.
Kristina earned a Bachelor's Degree in Legal Studies and a Master's Degree in Management from the University of Maryland. She also has 13 years of Paralegal experience. Prior to working at Planet Depos, Kristina was Lead Senior Litigation Paralegal and Paralegal Manager for an international plaintiffs firm in Washington, DC. As a Paralegal, she managed complex, high-profile federal cases, provided extensive litigation support, and aided counsel in preparing for depositions and trials. Kristina has brought the knowledge gained from her paralegal days to Planet Depos, where it has served her well as Production Manager.
Course Information

This course is a video recording of a live event which took place as part of the 2017 Paralegal Cruise. The original handouts from the event are also included.
The recording may include some background noise or other interruptions typical of live events.
Please do not purchase this course if you have previously purchased the 2017 Paralegal Cruise package as this will be a duplicate.

To learn about the 2017 Paralegal Cruise CLE Package, please click here.
You can learn about the 2018 Paralegal Cruise Package here.

Please visit this link for answers to Frequently Asked Questions about our CLE: http://miamifrp.com/cle-faq/

Continuing Legal Education Credit (CLE)
NALA: This seminar is pre-approved by the Certifying Board of the National Association of Legal Assistants (NALA).
FRP: As approved by NALA, this seminar meets the requirements under Rule 20-6.1 of the Rules Regulating The Florida Bar for continuing legal education credit required to maintain the FRP credential.
NALS: This seminar is pre-approved by NALS, Inc. for continuing legal education credit required to maintain your NALS credential.

NFPA accepts substantive CLE hours bearing NALA accreditation.

CLE Credits from this program are pre-approved by NALA and can be used for your CLE requirements with any other associations which accept credits that hold NALA's approval. A certificate of completion is awarded upon completion of this program. It is the students responsibility to ensure NALA approved credits will be accepted by the entity they report credits to before signing up. If you aren't sure, please e-mail [email protected] for assistance.