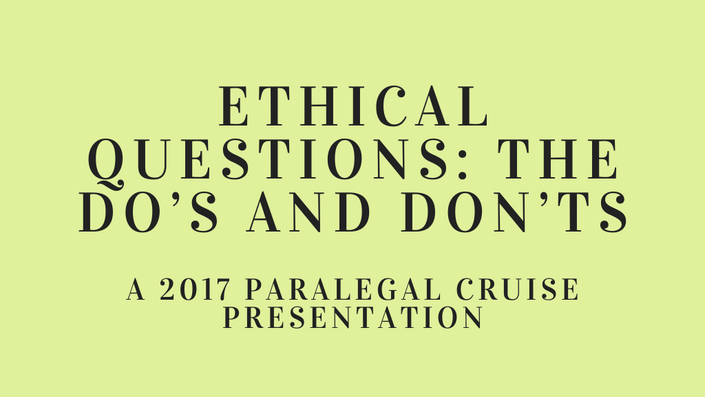 Ethical Questions: The Do's and Don'ts
1.0 CLE (Including 1.0 Ethics)
Course Description

This course will cover the following areas:
A. Avoiding Situations That May Expose You to UPL.
B. Requirements for Attorney Supervision
C. Evaluating Conflicts of Interest
D. Managing Issues of Privilege
E. Handling Social Media
Meet Your Speaker

Candy Ryan, CRP™ is a Litigation Paralegal at the firm of Beirne Maynard and Parsons, LLP. Ms. Ryan has extensive experience handling such diverse matters as commercial litigation, insurance defense, bankruptcy, business and corporate, probate and trust, real estate, trucking and railroad, as well as family law. She has ably assisted attorneys with commercial and business litigation case management, in both federal and state courts in numerous jurisdictions, including, Texas, California, Washington, Oregon, Arkansas, Oklahoma and others.
Ms. Ryan has been an active part of the legal community since 1979 in Seattle, San Diego and Dallas. She is a graduate of the University of San Diego, ABA accredited Paralegal Studies Program (1988) and has specialized in litigation for more than 25 years. She is very proud to be one of the initial 16 paralegals to be certified by the National Federation of Paralegal Association (NFPA) as a CORE Registered Paralegal in the State of Texas and one of the first 200 CRPs in the United States. She received her Bachelors of Arts in Legal Studies from California Creek University in 2015. She has also served the members of the Dallas Area Paralegal Association for many years as Chair of the Litigation section since 2009, President-Elect (2010), President (2011), Education Vice President (2012-2013), and NFPA Association Coordinator (2014). She currently serves on the Everest College Paralegal Program Advisory Commission (2009-2015), as well as, past board advisor for ITT Technical College and the Court Reporting Institute. She was a former member of Dallas Area Legal Assistants Association and President of the San Luis Obispo County Paralegal Association (1989 - California).
Ms. Ryan has been a member of the faculty for the Institute of Paralegal Education and National Business Institute since 2009 speaking on matters relating to civil litigation.

Course Information
This course is a video recording of a live event which took place as part of the 2017 Paralegal Cruise. The powerpoint from the event is also included.
The recording may include some background noise or other interruptions typical of live events.
Please do not purchase this course if you have previously purchased the 2017 Paralegal Cruise package as this will be a duplicate.

To learn about the 2017 Paralegal Cruise CLE Package, please click here.
You can learn about the 2018 Paralegal Cruise Package here.

Please visit this link for answers to Frequently Asked Questions about our CLE: http://miamifrp.com/cle-faq/
Continuing Legal Education Credit (CLE)
NALA: This seminar is pre-approved by the Certifying Board of the National Association of Legal Assistants (NALA).
FRP: As approved by NALA, this seminar meets the requirements under Rule 20-6.1 of the Rules Regulating The Florida Bar for continuing legal education credit required to maintain the FRP credential.
NALS: This seminar is pre-approved by NALS, Inc. for continuing legal education credit required to maintain your NALS credential.

NFPA accepts substantive CLE hours bearing NALA accreditation.

CLE Credits from this program are pre-approved by NALA and can be used for your CLE requirements with any other associations which accept credits that hold NALA's approval. A certificate of completion is awarded upon completion of this program. It is the students responsibility to ensure NALA approved credits will be accepted by the entity they report credits to before signing up. If you aren't sure, please e-mail [email protected] for assistance.