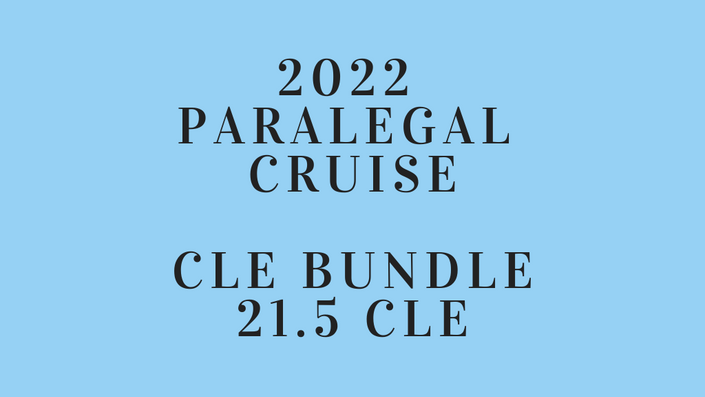 2022 Paralegal Cruise
Welcome to the 2022 Paralegal Cruise - On-Demand

Once you enroll - there is no deadline to complete the classes, they are yours forever. You'll be able to revisit the materials whenever you need to.
You can report the entire CLE package as one, or report each individual class separately, depending on your CLE needs.
Each course will be either a video or audio recording and will include copies of any PowerPoint presentation or other handouts provided for the attendees.
Some classes are recordings of live events and may include some background noise or other interruptions typical of live events.
All videos in the 2022 Paralegal Cruise Package feature optional computer generated Closed Captioning in English and transcripts for your convenience.
The following programs are included in this package:
Continuing Legal Education Credit (CLE)
NALA CP or ACP: The 2022 Paralegals Navigating Perilous Waters Cruise Event, sponsored by Perfectly Paralegal Consulting, Inc., has been approved by NALA for 21.5 CLE, including 4.0 ethics and 5.0 non-substantive.
Florida Bar FRP: As approved by NALA, this seminar meets the requirements under Rule 20-6.1 of the Rules Regulating The Florida Bar for continuing legal education credit required to maintain the FRP credential.
NFPA RP® or CRP™: NFPA automatically accepts substantive CLE hours which bears the accreditation of NALA on the certificate of attendance.
State Bar of Texas – Paralegal Division – The Division will accept substantive law CLE approved by the National Association of Legal Assistants for credit towards the Paralegal Division mandatory membership renewal CLE requirement.
NALS: This program has been pre-approved by NALS.